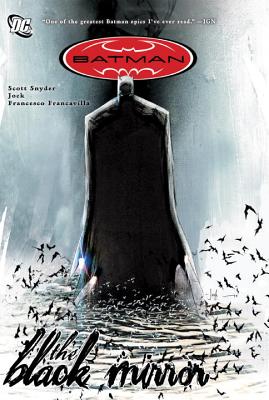 The Black Mirror (Hardcover)
DC Comics, 9781401232061, 304pp.
Publication Date: November 29, 2011
Other Editions of This Title:
Paperback (3/5/2013)
Hardcover (12/1/2011)
* Individual store prices may vary.
Description
A NEW YORK TIMES #1 Bestseller
In "The Black Mirror," a series of brutal murders pushes Batman's detective skills to the limit and forces him to confront one of Gotham City's oldest evils. Helpless and trapped in the deadly Mirror House, Batman must fight for his life against one of Gotham City's oldest and most powerful evils
Then, in a second story called "Hungry City," the corpse of a killer whale shows up on the floor of one of Gotham City's foremost banks. The event begins a strange and deadly mystery that will bring Batman face-to-face with the new, terrifying faces of organized crime in Gotham.
This volume collects Detective Comics #871-881.
About the Author
Scott Snyder is one of comics' best young writers. His current works include BATMAN, AMERICAN VAMPIRE and SWAMP THING. He has also been published in Zoetrope, Tin House, One-Story, Epoch, Small Spiral Notebook, and other journals. He teaches at Columbia University and Sarah Lawrence University and lives in New York with his wife, Jeanie, and his son, Jack Presley. He's currently at work on a novel for the Dial Press.
Praise For The Black Mirror…
"The art is beautiful. The writing is terrifyingly spectacular." —IGN
"This is going to be one of those Batman stories I remember for a very long time, as a perfect marriage of story and art."—iFanboy
"Scott Snyder, with rotating artists Jock and Francisco Francavilla, has solidified the title as the place for serious crime fiction in the Bat-universe."—The A.V. Club
"Detective Comics follows the tried-and-true formula that has been working for decades, yet it also adds layers Batman with some much-needed character flaws. Not to mention, there's a heaping splash of atmospheric art by Jock."—Complex Magazine
"Scott Snyder is, simply put, doing a career-making job…this is just killer stuff here….If you're only reading one Batman book, it should be this one, folks." —MTV Geek
"The best Batman arc in years."—Omnivoracious
or
Not Currently Available for Direct Purchase