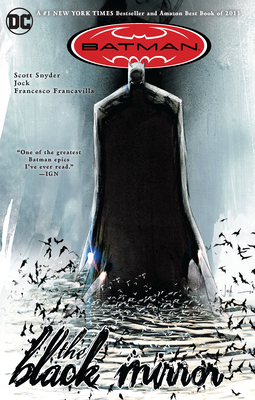 Batman (Paperback)
The Black Mirror
DC Comics, 9781401232078, 304pp.
Publication Date: March 5, 2013
* Individual store prices may vary.
Description
A NEW YORK TIMES #1 Bestseller
For years, Batman and Commissioner Gordon have stared into the unyielding black abyss that is Gotham City. Time after time, they've saved their beloved city from itself, not allowing it to be swallowed by a pit of violence and corruption. But even after a crime-fighting lifetime of confronting what they thought was the worst humanity had to offer, an even darker and more dangerous evil pushes Batman and Gordon to their limits.
As the conflict comes closer to its resolution, they find that the truth behind this murderous crime spree isn't just careening toward their doorstep—it has in fact emerged from it. Can two of Gotham's proudest protectors bring justice to this malevolent threat in Commissioner Gordon's most personal battle to date?
Eisner Award-winning writer Scott Snyder launches into comics superstardom with his #1 New York Times best-selling debut work on the Dark Knight. This volume collects Detective Comics #871-881.
About the Author
Scott Snyder is one of comics' best young writers. His current works include BATMAN, AMERICAN VAMPIRE and SWAMP THING. He has also been published in Zoetrope, Tin House, One-Story, Epoch, Small Spiral Notebook, and other journals. He teaches at Columbia University and Sarah Lawrence University and lives in New York with his wife, Jeanie, and his son, Jack Presley. He's currently at work on a novel for the Dial Press.
Praise For Batman: The Black Mirror…
"This darkly riveting story with gritty atmospherics is sure to please." —Booklist
 
"Combines the real world elements that have made the Christopher Nolan movies so successful with stylized visuals that only the comic medium can provide."—Complex Magazine
 
"One of the greatest Batman epics I've ever read." —IGN
 
"Scott Snyder, with rotating artists Jock and Francesco Francavilla, has solidified the title as the place for serious crime fiction in the Bat-universe." —The A.V. Club
 
"One of the best new collaborations in comics…this is a worthy spiritual successor To Batman: Year One." —MTV Geek