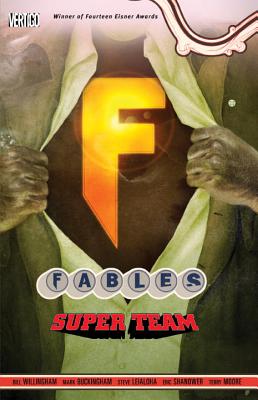 Super Team (Paperback)
Vertigo, 9781401233068, 148pp.
Publication Date: December 20, 2011
Description
Now why oh why in this mixed-up world would we saddle an important series that has never had anything to do with Super Heroes with a title like "Super Team"? And why has that snotty little Pinocchio suddenly got it into his head that he needs to design tight-fitting costumes for a carefully selected team of Fables? In fact, why was the little brat caught looking over his own comic-book collection, mumbling things like, "We can call him Werewolf Man, and he can be The Golden Knight, and she can be called The Green Witch?"
This volume also includes a special story illustrated by Terry Moore (Echo, Strangers in Paradise)
About the Author
Bill Willingham is the award-winning and New York Times bestselling writer and creator of FABLES. He has been writing, and sometimes drawing, comics for more than twenty years on titles including Elementals, Coventry, PROPOSITION PLAYER and FABLES. With Matthew Sturges, Bill co-writes the FABLES spinoff JACK OF FABLES, as well as HOUSE OF MYSTERY and JUSTICE SOCIETY OF AMERICA. His work has been nominated for many awards, including the Eisner, Harvey and Ignatz comic industry awards, plus the International Horror Guild award.
Advertisement