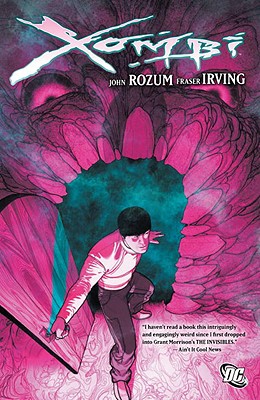 Xombi (Paperback)
Vertigo, 9781401233464, 160pp.
Publication Date: February 7, 2012
* Individual store prices may vary.
Description
Writer John Rozum and artist Frazer Irving (BATMAN AND ROBIN) team up to deliver the finest in contemporary urban horror - with a super hero twist in this sensational graphic novel! XOMBI centers around David Kim, a medical researcher who was attacked in his laboratory by strange creatures and left for dead. His supernaturally induced mortal injuries were repaired by nanomachines injected into his body. The combination of science and the supernatural has had two consequences. 1) He cannot die. Ever. He can self-heal any wound, any disease, never has to brush his teeth, diet, worry about aging, or use a toilet. The nanomachines in his body process everything and keep him in peak physical condition. This condition brought on BY artificial means is what makes him a xombi. 2) He has now become a magnet for supernatural phenomenon. All manner of really strange stuff occurs with him somehow winding up in the center of it.
or
Not Currently Available for Direct Purchase