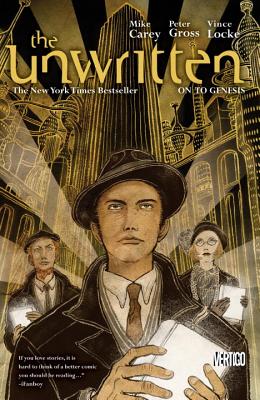 On to Genesis (Paperback)
Vertigo, 9781401233594, 1pp.
Publication Date: January 17, 2012
Description
A NEW YORK TIMES BESTSELLER Before his mysterious disappearance and untimely death, the world-famous fantasy author Wilson Taylor helped bring two enduring creations into the world: Tommy Taylor, the fictional boy wizard who starred in his best selling book...and Tom Taylor, his real-life son Armed with his father's journals, Tom Taylor begins a journey to uncover the truth behind how he came into this world. Was he born of flesh and blood, or written into existence by sheer storytelling magic? His quest will take him across the United States and even into the past - to the Golden Age of comic books and the birth of a new type of hero. The critically acclaimed creative team of Mike Carey and Peter Gross present THE UNWRITTEN: ON TO GENESIS - a story of suspense, secrets and the superhuman.
About the Author
Mike Carey got into writing through comic books, where his horror/fantasy series Lucifer for Vertigo/DC Comics garnered numerous international awards and was nominated for five Eisners. From there he moved into novels and screenplays, while still maintaining a presence in the comics world (Vertigo/DC Comics' Hellblazer and Marvel's X-Men, Ultimate Fantastic Four). His movie Frost Flowers, an erotic ghost story, is currently in production with Hadaly/Bluestar Pictures. He lives in London, England, about as far as you can get from the centre of the city and still have access to the London Underground train network. His wife, Linda, writes fantasy for young readers under the pseudonym A.J. Lake. They have three children and an implausibly beautiful cat.
Advertisement