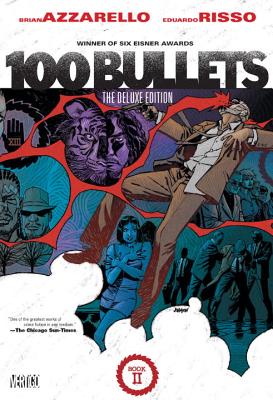 100 Bullets: The Deluxe Edition Book Two (Hardcover)
The Deluxe Edition Book Two
Vertigo, 9781401233723, 1pp.
Publication Date: April 17, 2012
* Individual store prices may vary.
or
Not Currently Available for Direct Purchase
Description
In the second hardcover collection of the acclaimed, award-winning 100 BULLETS, Agent Graves continues to offer immunity to everyday people to carry out their innermost desires of vengeance with the 100 bullets that he supplies. But as these self-serving manipulations take place, pieces of the mystery of the Minutemen and the organization that created them start to come together, and we discover to the research and conspiracy theories of Mr. Branch. As more is revealed about the series' main characters, the true meaning and importance of the conflict between Graves and the Trust starts to emerge.
Then, Agent Graves presents his trademark attaché case containing a gun and 100 untraceable bullets to Milo Garret -- a smalltime private dick who's just gotten out of the hospital after losing an argument with his car's windshield. With his face covered in bandages, Milo has become an invisible man in more ways than one. As his latest case draws him into the shadowy world of the Trust, he's forced to confront the blank space that is his past and figure out what it has to do with the attaché case he's holding in the present... and do it before what he doesn't know ends up finishing the job that the windshield started.
About the Author
Brian Azzarello has been writing comics professionally since the mid-1990s. He is the writer and cocreator with Eduardo Risso of the acclaimed Vertigo series 100 BULLETS. Azzarello's other writing credits for DC Comics include BATMAN and JONNY DOUBLE (both with Risso), SUPERMAN: FOR TOMORROW (with artist Jim Lee), and an Eisner-nominated run on HELLBLAZER. He has also written Cage and Banner for Marvel Comics. With artist Lee Bermejo, he wrote the acclaimed graphic novels JOKER and LUTHOR. He helped inaugurate the Vertigo Crime line with the graphic novel FILTHY RICH.
Advertisement