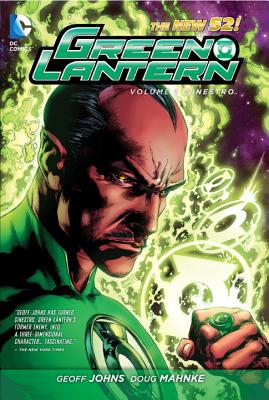 Green Lantern, Volume 1: Sinestro (Hardcover)
Sinestro
DC Comics, 9781401234546, 160pp.
Publication Date: May 22, 2012
Description
A New York Times Bestseller As part of the DC Comics--The New 52, the first six issues of the star-spanning series from superstar writer Geoff Johns and artist Doug Mahnke is collected here in hardcover In the aftermath of a deadly showdown between the Green Lantern Corps and a mysterious foe from the past, Hal Jordan has been stripped of his ring. Left standing is an unexpected new Green Lantern in town: Sinestro And now, this renegade GL has set a course for Korugar with one purpose: To free his homeworld from the scourge of his own Sinestro Corps, with the not-so-willing help of Hal Jordan The volume collects issues 1-6 of Green Lantern, part of the DC Comics--The New 52 event.
About the Author
Geoff Johns is Chief Creative Officer of DC Entertainment. He has written highly acclaimed stories starring Superman, Green Lantern, The Flash, Teen Titans and The Justice Society of America. He is the author of the New York Times bestselling graphic novels Green Lantern: Rage Of The Red Lanterns, Green Lantern: Sinestro Corps War, Justice Society Of America: Thy Kingdom Come and Superman: Brainiac, and is the author of DC Comics' biggest, most recent events, Blackest Night, Brightest Day and several books included in the DC Comics--The New 52 event. Johns has also written episodes of the TV series Smallville and Robot Chicken. He is writing the story of the DC Universe Online massively multiplayer action game from Sony Online Entertainment LLC.
Praise For Green Lantern, Volume 1: Sinestro…
"Hal Jordan has more personality than he has in ages, and it feels like a whole new book." – MTV Geek 
Advertisement