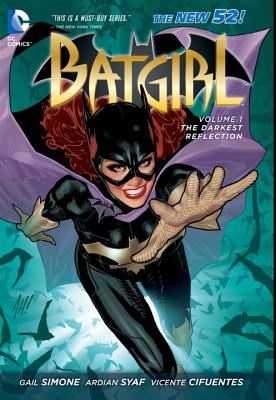 Batgirl, Volume 1: The Darkest Reflection (Hardcover)
The Darkest Reflection
DC Comics, 9781401234751, 144pp.
Publication Date: July 17, 2012
Description
A
New York Times
Best Seller As a part of the acclaimed DC Comics--The New 52 event of September 2011, Barbara Gordon is finally back as Batgirl
The nightmare-inducing brute known as Mirror is destroying the lives of Gotham City citizens seemingly at random. Will Barbara be able to survive her explosive confrontation with this new villain, as well as facing dark secrets from her past? A new chapter in the riveting adventures of Batgirl continue in stunning fashion, with script by fan-favorite Gail Simone and stellar art by superstar Ardian Syaf
This volume colles issues 1-6 of Batgirl, part of the DC Comics--The New 52 event.
About the Author
A multiple award-winning, critically acclaimed writer of comics and animation, Gail Simone began writing as a columnist for comicbookresources.com, producing the comics parody column "You'll All Be Sorry." She has since had fan favorite runs on such books as Wonder Woman, Superman, Secret Six, Birds Of Prey and the creator-owned Welcome To Tranquility. She currently writes Fury Of Firestorm: The Nuclear Men and Batgirl for DC Comics.
Praise For Batgirl, Volume 1: The Darkest Reflection…
"This is a must-buy series." – New York Times

"Simone and artist Ardian Syaf not only do justice to Babs' legacy, but build in a new complexity that is the starting point for a future full of new storytelling possibilities. A hell of a ride." – IGN

"Simone gets the wit and warmth of Barbara's voice…Syaf's art is terrific." – Time Out Chicago

"Gail Simone, one of the strongest female voices in comics today….Brilliantly handled. It's action-based super-hero comics with a heart and conscience, just as we would expect from Gail Simone." – Daily KOS

Advertisement