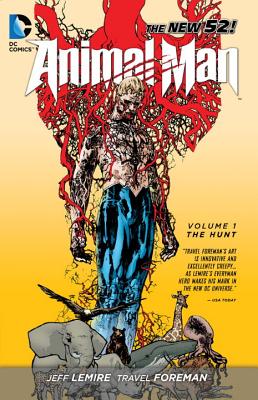 Animal Man, Volume 1: The Hunt (Paperback)
The Hunt
DC Comics, 9781401235079, 144pp.
Publication Date: May 8, 2012
Description
A #1 NEW YORK TIMES BESTSELLER
"The best thing to come out of the DC relaunch. Absolutely
knocked it out of the park
....Gold stars for the creative team." -
io9
As a part of the acclaimed DC Comics--The New 52 event of September 2011, Animal Man Buddy Baker, has gone from "super" man to family man-but is he strong enough to hold his family together when Maxine, his young daughter, starts to manifest her own dangerous powers? As these new abilities continue to terrify Buddy and his wife Ellen, things take a turn for the worse as Buddy begins a startling transformation of his own that will lead him on a journey into the heart of The Red. Collected here are the first 6 issues of this dramatic new series from writer Jeff Lemire (
Sweet Tooth
) and artist Travel Foreman (
The Immortal Iron Fist
)
This volume collect issues 1-6 of Animal Man, part of the DC Comics--The New 52 event.
About the Author
Jeff Lemire is the creator of the acclaimed Essex County Trilogy, the Vertigo graphic novel The Nobody, and is the winner of a Xeric Award and YALSA Alex Award. He is currently the writer for DC Comics' Animal Man, Frankenstein: Agent Of S.H.A.D.E., and Vertigo/DC's Sweet Tooth. He has also previously written the Eisner-nominated Superboy.
Praise For Animal Man, Volume 1: The Hunt…
"Travel Foreman's art is innovative and excellently creepy when it needs to be, and will hopefully get a lot of eyes as Lemire's everyman hero makes his mark in the new DC Universe." – USA Today

"A profound meditation on consumer culture and the economy of disposability." – PopMatters

"Animal Man has the sensational Jeff Lemire at the helm." – Entertainment Weekly

"A strange, dark fantasy book with unpredictable plots and fantastic art." – Complex Magazine

"Haunting…Travel Foreman provides sleek, meticulous art that grounds the book in reality, and he uses inventive page layouts during the scenes in the Baker home to create visual excitement where the situations are less fantastic…Animal Man is just a cool, odd character, grounded in the real world but still very much a superhero." – The Onion AV Club

"I don't want to overhype it, but if you don't love it from the very first page, you're not human." – MTV Geek

 "The best thing to come out of the DC relaunch. Absolutely knocked it out of the park…Gold stars for the creative team." – io9

"Visceral and intriguing." – SFX

"This book sets the benchmark." – Comic Book Resources

 "A great introduction to Animal Man for new readers, while also giving long-time fans something fresh to be excited about." – IGN

"The character Jeff was meant to write. Lemire and Foreman did an amazing job." – Ain't It Cool News
"Well-crafted and bold." – iFanboy, Pick of the Week

"Animal Man is one you can't pass up." – Bloody Disgusting, Pick of the Week
Advertisement