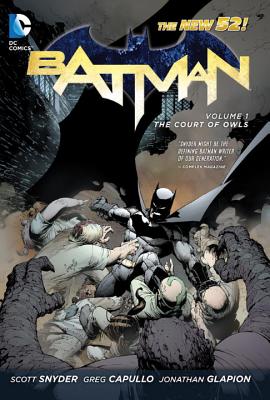 The Court of Owls (Hardcover)
DC Comics, 9781401235413, 176pp.
Publication Date: May 15, 2012
Description
#1 New York Times Bestseller The reader will experience the story from Batman's viewpoint on pages 108-117. Following his ground-breaking, critically acclaimed run on Detective Comics, writer Scott Snyder (American Vampire) alongside artist Greg Capullo (Spawn) begins a new era of The Dark Knight as with the relaunch of Batman, as a part of DC Comics--The New 52 After a series of brutal murders rocks Gotham City, Batman begins to realize that perhaps these crimes go far deeper than appearances suggest. As the Caped Crusader begins to unravel this deadly mystery, he discovers a conspiracy going back to his youth and beyond to the origins of the city he's sworn to protect. Could the Court of Owls, once thought to be nothing more than an urban legend, be behind the crime and corruption? Or is Bruce Wayne losing his grip on sanity and falling prey to the pressures of his war on crime? Collects issues #1-7 of Batman.
About the Author
Scott Snyder is the bestselling and award-winning writer of Batman, American Vampire and Swamp Thing as well as the short story collection Voodoo Heart. He teaches writing at Sarah Lawrence College, NYU and Columbia University. He lives on Long Island with his wife, Jeanie, and his sons Jack and Emmett. He is a dedicated and un-ironic fan of Elvis Presley.
Praise For The Court of Owls…
"A+. The hero's got personality (and is unafraid to release a quip as sharp as a Batarang), a horde of supervillains, gumption to spare and a whole host of high-tech gadgetry to suitably impress longtime fans and those new to the Dark Knight."
—USA Today
 
"This is one of the best comics of the week."
—The New York Times
 
"[Writer Scott Snyder] pulls from the oldest aspects of the Batman myth, combines it with sinister-comic elements from the series' best period, and gives the whole thing terrific forward-spin by setting up an honest-to-gosh mystery for Batman to solve."
—Entertainment Weekly
 
"Scott Snyder, already the company's greatest asset over the last four weeks, spins a stack of plates immediately…. Too often Batman comics focus heavily on the hero persona … Snyder sets up equal amounts of conflict for both Wayne's public and private personas."
—Time Out Chicago
 
"A stunning debut…. Snyder knows these characters, sets up an intriguing mystery, and delivers some action that Capullo realizes stunningly. This is definitely in the top rank of the revamp.
—The Onion AV Club
 
"Hits all the right notes. I enjoyed the living hell out of this." – io9
 
"Bruce Wayne is a badass. The end."
—IGN, 9.5 Rating
 
"A+. Incredible tone and enough twists, turns and character appearances to keep us hooked."
—UGO
 
"There's enough here, kept at a high enough level to make it interesting and viable across media and digestible enough for even the most novice DC Universe reader…. Score one for DC and score one for Snyder and Capullo in finding a new fan."
—Comic Book Resources
Advertisement