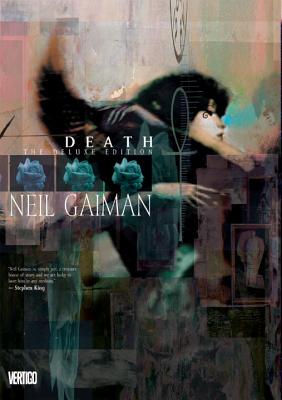 Death Deluxe Edition (Hardcover)
Vertigo, 9781401235482, 320pp.
Publication Date: October 9, 2012
Description
A
New York Times
Best Seller From the pages of Newbery Medal winner Neil Gaiman's THE SANDMAN comes fan-favorite character Death in a new deluxe hardcover edition collecting her solo adventures
The first story introduces the young, pale, perky, and genuinely likable Death. One day in every century, Death walks the Earth to better understand those to whom she will be the final visitor. Today is that day. As a young mortal girl named Didi, Death befriends a teenager and helps a 250-year old homeless woman find her missing heart. What follows is a sincere musing on love, life and (of course) death.
In the second story, a rising star of the music world wrestles with revealing her true sexual orientation just as her lover is lured into the realm of Death that Death herself should make an appearance. A practical, honest, and intelligent story that illuminates "the miracle of death."
This new hardcover collects the DEATH: THE HIGH COST OF LIVING and DEATH: THE TIME OF YOUR LIFE miniseries, a must have for any fan.
About the Author
Neil Gaiman is the NEW YORK TIMES best-selling author of AMERICAN GODS and CORALINE. His other books include the novels ANANSI BOYS, NEVERWHERE and STARDUST (winner of the American Library Association's Alex Awards as one of 2000's top ten adult novels for young adults) and the short fiction collections M IS FOR MAGIC, FRAGILE THINGS and SMOKE AND MIRRORS. With Roger Avary, he is the screenwriter of the motion picture BEOWULF, directed by Robert Zemeckis. His illustrated novel STARDUST was released as a major motion picture Summer 2007 starring Michelle Pfeiffer and Robert De Niro. Among his many awards are the Eisner, Hugo, the Nebula and the World.
Praise For Death Deluxe Edition…
"Undoubtedly the finest writing the mainstream comic book industry has ever seen"—St. Louis Dispatch

"Neil Gaiman is, simply put, a treasure house of story, and we are lucky to have him in any medium"—Stephen King 
Advertisement