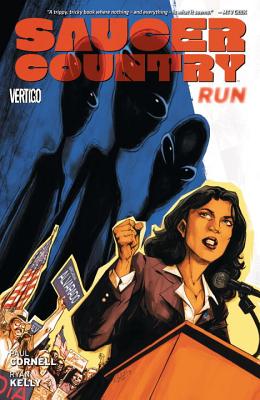 Saucer Country Vol. 1 (Paperback)
Run
Vertigo, 9781401235499, 1pp.
Publication Date: November 27, 2012
* Individual store prices may vary.
Description
Arcadia Alvarado, the leading Democratic candidate for President of the United States, says she was 'abducted by aliens.' As the Mexican-American Governor of New Mexico, she's dealing with immigration, budget cuts and an alcoholic ex. She's about to toss her hat into the ring as a candidate for President in the most volatile political climate ever. But then...a lonely road and a nightmarish encounter have left her with terrible, half-glimpsed memories. And now she has to become President. To expose the truth--and maybe, to save the world.
Arcadia's quest is at the heart of this new title from writer Paul Cornell (DEMON KNIGHTS, ACTION COMICS, Doctor Who) and artist Ryan Kelly (NEW YORK FIVE, NORTHLANDERS, Local). With the help of her quirky staff, Arcadia will pursue the truth of her abduction into danger, mystery and awe.
Saucer Country is a dark thriller that blends UFO lore and alien abduction with political intrigue, all set in the hauntingly beautiful Southwest.
About the Author
Paul Cornell is a British writer best known for his work in television drama, Dr. Who fiction and as the creator of one of the Doctor's spin-off companions. He has written for other television dramas including Robin Hood, Primeval, Casualty, Holby City and Coronation Street. His comics work includes ACTION COMICS, KNIGHT & SQUIRE, STORMWATCH and DEMON KNIGHTS for DC Comics, as well as Captain Britain and MI-13, Black Widow: Deadly Origin and Dark X-Men for Marvel Comics.
Praise For Saucer Country Vol. 1: Run…
Praise for Paul Cornell:
"A love story amidst an epic fantasy setting is an example of Cornell's gift as a storyteller, his ability to find the edge, the new. A love triangle just propels the story beyond expectations."—POP MATTERS
or
Not Currently Available for Direct Purchase