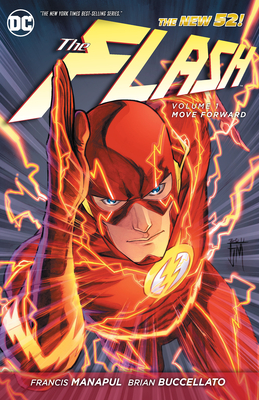 The Flash Vol. 1: Move Forward (the New 52) (Paperback)
Move Forward (the New 52)
DC Comics, 9781401235543, 168pp.
Publication Date: August 20, 2013
Description
Struck by a bolt of lightning and doused in chemicals, Central City Police scientist Barry Allen was transformed into the fastest man alive. Tapping into the energy field called The Speed Force, he applies a tenacious sense of justice to protect an serve the world as The Flash
The Fastest Man Alive returns to his own monthly series as part of the DC Comics--The New 52 event with the writer/artist team of Francis Manapul and Brian Buccellato. The Flash knows he can't be everywhere at once, but he has seemingly met his match when he faces DC Comic' hottest new Super Villain, Mob Rule, who really can be everywhere at once
As Mob Rule wages a campaign of crime across Central City, including an electromagnetic blast that plunges the city into darkness, The Flash learns the the only way he can capture Mob Rule and save Central City is to learn how to make his brain function even faster than before--but as much as it helps him, it also comes with a steep price.
This volume collects issues 1-8 of the monthly series.
About the Author
Francis Manapul is the artist and co-writer of The Flash, which is part of DC Comics--The New 52. His previous work for DC Comics includes books such as Adventure Comics, Superman/Batman, and The Legion Of Super-Heroes. His work has been published in various publications from the likes of Aspen Comics, Editions Delcourt, Top Cow Productions, and Devils Due just to name a few. Manapul was a TV Presenter on SyFy's Beast Legends, in which he and a team of scientists and adventurers traveled the globe in search of scientific data to create mythical beasts. Manapul was born in Manila, Philippines and currently calls Toronto, Canada his home. Brian Buccellato started in comics as a colorist for the Marvel/DC crossover Punisher/Batman and went on to color for all major publishers including work on Uncanny X-Men, Superman, The Flash and many others. Brian began writing as part of The Story Company, collaborating on a number of screenplays. While working for Top Cow, he started his comics writing with The Darkness, before teaming with Francis Manapul to co-write The Flash for DC Comics. He also writes and illustrates the creator-owned title Foster.
Praise For The Flash Vol. 1: Move Forward (the New 52)…
"Showcases the Flash's likability and almost a hint of goofiness ... a lot of potential for greatness."—USA Today
"A visual treat.... Any reader can easily jump on board."—The New York Times
"The Flash will be one of the runaway hits of this reboot--and could eventually become one of the great runs of American superhero comics."—Time Out Chicago
"Flash fans should breathe a sigh of relief that the character is 100% definitely in the right hands."—MTV Geek
"An accessible, charming superhero tale."—io9
Advertisement