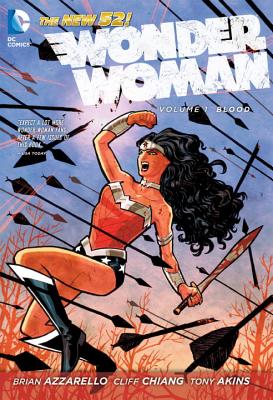 Wonder Woman Vol. 1 (Hardcover)
Blood (The New 52)
DC Comics, 9781401235635, 160pp.
Publication Date: June 5, 2012
* Individual store prices may vary.
Description
A  New York Times Bestseller

As a part of the acclaimed DC Comics—The New 52 event of September 2011, the first six issues of the critically acclaimed new Wonder Woman series are collected in hardcover! 

Hippolyta, queen of the Amazons, has kept a secret from her daughter all her life–and when Wonder Woman learns who her father is, her life will shatter like brittle clay. The only one more shocked than Diana by this revelation? Bloodthirsty Hera–so why is her sinister daughter, Strife, so eager for the truth to be told? Superstar writer Brian Azzarello creates a new direction for one of DC's best-known heroes, with spectacular art by Cliff Chiang and Tony Akins!
About the Author
Brian Azzarello is the writer and co-creator of the award-winning Vertigo series "100 Bullets." Azzarello's other writing credits for DC Comics include the graphic novel "Joker," as well as "Batman: Broken City," "Lex Luther: Man Of Steel," and "Hellblazer." Brian has been featured in Entertainment Weekly, The Chicago Tribune and other publications.
Praise For Wonder Woman Vol. 1: Blood (The New 52)…
"This is clear storytelling at its best….It's an intriguing concept and easy to grasp. The reader doesn't need to know that much about Wonder Woman because she is, well, Wonder Woman." – The New York Times

"Azzarello is...rebuilding the mythology of Wonder Woman." – Maxim

"Azzarello is crafting a highly-intelligent, and surprisingly gory, affair that's drenched in Greek mythology and godly mischief. And if that's not enough, artist Cliff Chiang simply kills it on every panel he touches. Put your presumptions aside because this is actually a Wonder Woman book worth reading." – Complex Magazine

 "This series will hopefully elevate Diana back into the limelight with Superman and Batman where she belongs." – Christian Science Monitor

"Beautifully illustrated and brings a fresh, fascinating and fun take to the Amazon Princess and her world." – IGN

"It's a different direction for Wonder Woman, but one still steeped in mythology...great things from Azzarello and Chiang." – The Onion AV Club

"Enthralling." - UGO

 "This book is weird and worth your while." – io9

"It's the kind of writing that's made Azzarello such a sought after comic book author." – CraveOnline

"Brian Azzarello is going for a much more horror-oriented book than previous incarnations, and that works well with Cliff Chiang's art. In fact, they're probably one of the best paired teams for the New 52 so far." – Comic Book Resources

"Page after page, Azzarello just unfurls more and more smart ideas in what is probably the best hope for the great Wonder Woman story we've all been hoping for. Unsurprisingly, Cliff Chiang delivers some phenomenal visuals, presenting us with a heroine who reads as dynamic, elegant, powerful, and even godly. People, I think they've figured it out." – iFanboy

or
Not Currently Available for Direct Purchase