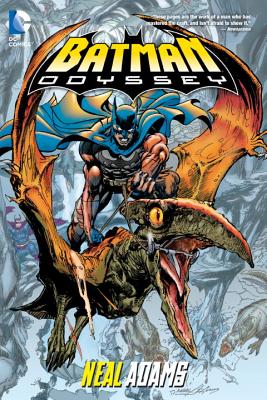 Batman: Odyssey (Hardcover)
Odyssey
DC Comics, 9781401236830, 368pp.
Publication Date: October 16, 2012
Description
Neal Adams (GREEN LANTERN/GREEN ARROW), one of the most acclaimed Batman artists, has defined the Caped Crusader for decades and fans have long been clamoring to see him draw the Dark Knight once more. Now, from the legendary creator comes a Batman tale like you've never seen before When a series of seemingly unconnected events brings Batman close to killing a man for the first time, Bruce Wayne must embark on a journey of self-discovery... which also reveals shocking secrets about Batman's enemies and allies alike. From a secret chamber in Arkham Asylum to a hidden world below our own, this weird, wild journey will answer once and for all the question, "Can a Batman who kills still be Batman?" BATMAN: ODYSSEY, a singular and epic Batman tale, collects BATMAN: ODYSSEY #1-6 (VOL. 1) and #1-7 (VOL. 2).
About the Author
Considered the groundbreaking artist of the 1960s, Neal Adams was born June 6, 1941 in New York City. He attended Manhattan's High School of Industrial Art and, while still a student, found work ghosting the Bat Masterson syndicated newspaper strip and drawing gag cartoons for Archie Comics. Neal received his own comic strip, based on the popular TV series Ben Casey, in 1962. The strip ran until 1965 at which time Neal made the move to comics for Warren Publishing and DC Comics. Neal's realistic style on such strips as DEADMAN and GREEN LANTERN/GREEN ARROW, at odds with the more cartoony comics of the day, made him an immediate star. He became DC's premier cover artist, contributing radical and dynamic illustrations to virtually the company's entire line. Neal's work has also appeared in Marvel's X-Men, the Avengers and Thor, on paperback book covers, and on stage, as the art director for the Broadway science fiction play, Warp. In the 1970s, Neal and partner (and frequent inker) Dick Giordano started the art agency Continuity Associates out of which came, in the 1980s, Continuity Comics. Neal is the winner of several Alley, Shazam and Inkpot Awards, and was inducted into the Harvey Awards' Jack Kirby Hall of Fame in 1999.
Praise For Batman: Odyssey…
"It's completely sincere and utterly wonderful. BATMAN: ODYSSEY looks and reads like nothing else on the shelf."—Comic Book Resources

"With each page, Adams proves that, artistically speaking, he's not missed a beat. These pages are the work of a man who has mastered the craft, and isn't afraid to show it."—Newsarama
Advertisement