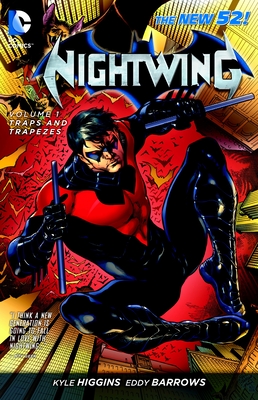 Nightwing Vol. 1: Traps and Trapezes (the New 52) (Paperback)
Traps and Trapezes (the New 52)
DC Comics, 9781401237059, 160pp.
Publication Date: October 16, 2012
Description
A
New York Times
Best Seller As a part of the acclaimed DC Comics - The New 52 event of September 2011, Dick Grayson flies high once more as Nightwing in a new series from hot new writer Kyle Higgins (BATMAN: GATES OF GOTHAM) and artist Eddy Barrows (SUPERMAN)
Haley's Circus, the big top where Dick once performed, makes a stop on its tour in Gotham City - bringing with it murder, mystery and superhuman evil. To uncover more clues as to why a mysterious assassin is targetting him, Nightwing joins the Haley's Circus tour in order to find more clues and protect those he loves. But as Dick becomes closer acquainted with the big top he grew up with, he discovers there's a much deeper, darker secret to be discovered.
About the Author
Kyle Higgins is a New York Times Best Selling writer whose work includes Batman: Gates Of Gotham, Supreme Power, and Deathstroke. After spending two years at the University of Iowa, Kyle transferred to Chapman University where he co-wrote and directed a superhero noir titled The League, about the 1960's superhero labor union of Chicago. The film opened doors at Marvel Comics, where Kyle co-wrote his first two books with Alec Siegel (Captain America Theater Of War: Prisoners Of Duty, and Avengers Origins: The Vision). Kyle is also a co-writer of The Nightrunner (with David Hine), whose story was featured on The Daily Show with John Stewart. At present, Kyle is helming Nightwing as part of DC Comics--The New 52.
Praise For Nightwing Vol. 1: Traps and Trapezes (the New 52)…
"Dynamic art and a story that draws upon the history of the character."—The New York Times
"Stellar ... a solid yarn that roots itself in Grayson's past, with gorgeous artwork by artist Eddy Barrows to boot."—IGN
"I think a new generation is going to fall in love with Nightwing."—MTV Geek
Advertisement