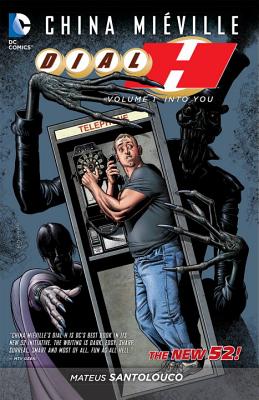 Dial H, Volume 1: Into You (Paperback)
Into You
DC Comics, 9781401237752, 168pp.
Publication Date: April 23, 2013
Description
A New York Times Bestseller Hugo Award-winning novelist China Mieville breathes new life into a classic DC Comics series as part of the second wave of DC Comics--The New 52. In the small run-down town of Littleville, CO, a troubled young man stumbles upon the lost H-Dial and all of the secrets and power it possesses. It has been many years since the H-Dial has been seen, though legions of villains have been scouring the globe looking for it and its ability to transform users into a variety of superheros and take on their powers and psyches. Will our hero be able to harness the power of the H-Dial and protect it from falling into the hands of evil? Will this newfound power plunge our hero to madness? And will we ever discover where the H-Dial came from and its true meaning?
About the Author
China Mieville is the author of KING RAT; PERDIDO STREET STATION winner of the Arthur C. Clarke Award and the British Fantasy Award; THE SCAR, winner of the Locus Award and the British Fantasy Award; IRON COUNCIL winner of the Locus Award and the Arthur C. Clarke Award; LOOKING FOR JAKE a collection of short stories; and UN LUN DUN, his New York Times bestselling book for younger readers. He lives and works in London.
Praise For Dial H, Volume 1: Into You…
Praise for Mieville's Dial H:

"Dial H is a terrific tale of an ordinary schlub raised to hero status by accident. It's an old trope but, as detailed vividly by Mieville, Dial H is full of cleverness and narrative energy."—EW.com's Shelf Life

"Miéville, a mystery/horror novelist, brings raw energy and intelligence to Dial H and it's amazing just how refreshing and invigorating that is."—MTV.com

"Mieville and Burchielli have turned a strange concept into something even more wonderful in "Dial H." Don't pass it up..."—Comicbookresources.com

"Wild, crazy fun. Miéville's ideas are golden from the get-go, and we can only imagine how much zanier they're going to be as the series wears on."—Craveonline.com

"Although Dial H is shorter on visceral horror, it goes longer on comedy, resulting in one of the best of DC Comics' uneven New 52 relaunches."—Wired.com
Advertisement