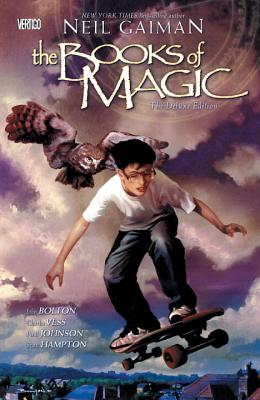 The Books of Magic (Hardcover)
Vertigo, 9781401237813, 197pp.
Publication Date: January 29, 2013
Other Editions of This Title:
Paperback (4/29/2014)
Paperback (4/14/1993)
* Individual store prices may vary.
Description
A "NEW YORK TIMES" BESTSELLER
From Neil Gaiman, the bestselling novelist and creator of the world-renowned comics title The Sandman, comes a mesmerizing tale of the dangers and opportunities of youth, and its endless possibilities. Illustrated by four of comics' most accomplished artists, John Bolton, Scott Hampton, Charles Vess and Paul Johnson, THE BOOKS OF MAGIC collects all four issues of the original
miniseries that introduced the character of Timothy Hunter and set the stage for his continuing adventures.
Timothy Hunter could be the most powerful magician in the world, but does he really want to be? Guided through the magical world starting at the begining of time by a group of DC Universe magicians, often refered to as the Trenchcoat Brigade (John Constantine, Phantom Stranger, Mister E, and Doctor Occult), they attempt to aid Timothy in his decision whether or not to embrace his gift. However, by the time Timothy makes a choice, it may have already been made for him.
About the Author
Neil Gaiman is the NEW YORK TIMES bestselling author of AMERICAN GODS and CORALINE (illustrated by Dave McKean). His other novels include NEVERWHERE, STARDUST (winner of the American Library Association's Alex Award as one of 2000's top ten adult novels for young adults), the short fiction collection SMOKE AND MIRRORS and the critically acclaimed comic book series THE SANDMAN. He is the author of the children's book THE WOLVES IN THE WALLS (illustrated by Dave McKean). Among his many awards are the Hugo, the Nebula, the World Fantasy Award and the Bram Stoker Award."
or
Not Currently Available for Direct Purchase