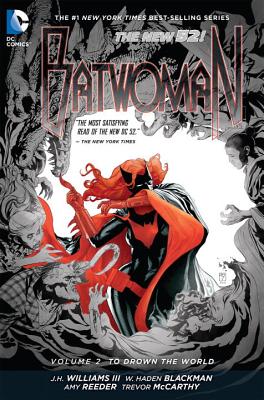 Batwoman Vol. 2: To Drown the World (the New 52) (Hardcover)
To Drown the World (the New 52)
DC Comics, 9781401237905, 144pp.
Publication Date: January 22, 2013
Description
A NEW YORK TIMES BESTSELLER Six lives, inextricably linked in the past and present, each on a collision course with the others: Batwoman, fighting for duty and vengeance against a threat of arcane power. Detective Maggie Sawyer, investigating a case that could end her career. DEO Agent Cameron Chase, commanding a vigilante she despises. Colonel Jacob Kane, clutching at a life that's slipping away. Maro, a new villain corrupting Gotham City. And Kate Kane, wrestling with decisions that will test her loyalties. J.H. Williams III and W. Haden Blackman continue their stellar BATWOMAN run, joined by senational artists Amy Reeder and Trevor McCarthy Collecting BATWOMAN #6-11.
About the Author
J.H. Williams entered the comics field in 1991 and immediately began getting attention for his finely crafted work on such titles as Batman, Starman and Seven Soldiers of Victory. William's went on to co-create and pencil the hit series PROMETHEA with comics legend Alan Moore. His recent works include BATMAN: THE BLACK GLOVE with Grant Morrison and BATMAN: DETECTIVE with Paul Dini.
Praise For Batwoman Vol. 2: To Drown the World (the New 52)…
"Truly a work of art."—USA Today

"The most satisfying read of the new DC 52."—The New York Times

"In our world, barriers slowly erode; in superhero stories, they get smashed."—Rolling Stone

"Shatters expectations."—Complex Magazine

"Gorgeous, stylized and unique`the story's pretty much non-stop."—Publishers Weekly

"The bottom line: it is an excellent book."—PopMatters
Advertisement