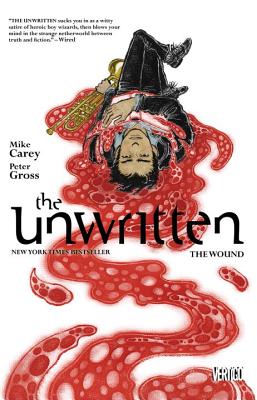 The Wound (Paperback)
Vertigo, 9781401238063, 144pp.
Publication Date: April 2, 2013
Description
A year after The War of Words and nearly unbearable tragedy and loss, Tom Taylor's life is finally knitting itself back together. However, disconnected from the power of Leviathan and the manipulation of the Cabal, the real world and the fictional world are facing a sweeping tide of chaos, and the damage seems to be spreading. When a rash of mysterious disappearances catches the eye of young detective Didge Patterson, it becomes apparent that the cult known as The Church of Tommy is involved. When ghosts, vampires and unicorns are also mixed in, Tommy finds that an even more complicated tale is about to unfold. Can Tommy discover the secrets behind the cult's mysterious facade and heal "The Wound" before the real and fictional worlds crumble? The Eisner Award-nominated creative team of Mike Carey (JOHN CONSTANTINE: HELLBLAZER) and Peter Gross (LUCIFER) present UNWRITTEN VOLUME 7: THE WOUND - a tumultuous tale where the lines between fiction and reality are irreparably blurred. Collects issues #36-41.
About the Author
Writer Mike Carey, best known for his work on Vertigo's Lucifer and Hellblazer, has made his mark in comics. Born in Liverpool, England, Carey worked as a teacher for fifteen years before gaining regular work writing for several independent companies. In 1999 he wrote the Sandman spinoff miniseries Sandman Presents: Lucifer. This led to the Lucifer solo title which earned him a nomination for the 2001 Will Eisner Comic Industry Awards - Best Writer. The Fourth Rail said of his work, "Carey gives the characters in all of the stories believable motivations and characterization." His additional Vertigo projects have included Faker and Crossing Midnight. In 2007, he helped DC launch the Minx line of graphic novels for teen girls with the Regifters. Beyond DC, Carey was also recognized for his work on Marvel's X-Men titles. He makes his home in London with his wife, Lin, and his children, Davey, Ben and Louise.
Praise For The Wound…
"Incredibly fun and ridiculously addictive.... For fans of literature (from classics to contemporary) this series is worth a read.... The Unwritten is a roller-coaster ride through a library, weaving famous authors and characters into a tale of mystery that is, at once, oddly familiar yet highly original."—USA Today

"A wish-I'd-thought-of-it premise, beautifully executed. Highly recommended for anyone who thinks that fantasy can do more than just help you escape the real world."—Brian K. Vaughan, Y: The Last Man
Advertisement