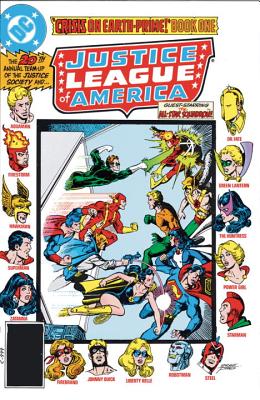 Crisis on Multiple Earths Vol. 6 (Paperback)
DC Comics, 9781401238223, 208pp.
Publication Date: June 11, 2013
Description
The Justice League of America teams up with their heroic predecesors, The Justice Society of America, in this new collection featuring three adventures that have never been reprinted before. First, the two teams face the threat of Gorilla Grodd and the Secret Society of Super-Villains. Then, the JLA and JSA battle alongside the All-Star Squadron against the Crime Syndicate. In the third epic in this book, the teams take on the Crime Champions of Earth-1. Collects JUSTICE LEAGUE OF AMERICA #195-197 Ï-209 and ALL-STAR SQUADRON #14-15.
About the Author
Gerry Conway is a prolific comics writer whose long career includes co-creating The Punisher, for Marvel Comics, and Firestorm, for DC. In the 1970s he wrote long runs on Amazing Spider-Man and The Fantastic Four before moving to DC, where he wrote Justice League of America, Wonder Woman and many others. In the 1980s he moved into screenwriting, working on the features Fire and Ice and Conan the Destoyer, and has since written and produced TV series including The Father Dowling Mysteries, Matlock, Law & Order and many others.
Advertisement