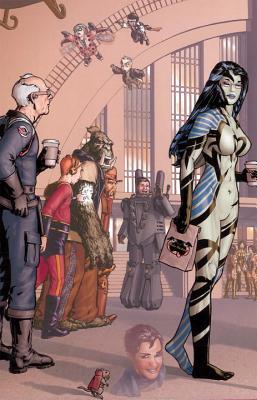 Absolute Top 10 (Hardcover)
DC Comics, 9781401238254, 576pp.
Publication Date: June 4, 2013
* Individual store prices may vary.
or
Not Currently Available for Direct Purchase
Description
A "New York Times" Bestseller
The massive, multilayered city of Neopolis, built shortly after World War II, was designed as a home for the expanding population of science-heroes, heroines and villains that had ballooned into existance in the previous decade. Bringing these powered beings together solved some problems but created others - turning Neopolis into a pressure cooker that normal policing methods
could never contain.
Join rookie cop Robyn Singer, alter ego "Toybox," as she hits the streets for the first time along with a colorful crew of fellow officers, each having the required training to deal with science-villains and super-crimes. You'll never look at powers, or police work, the same way again
This volume collects: Top 10 #1-2, Top 10: The Forty-niners, Smax #1-5 and a story from America's Best Comics Special #1.
Bonus Material includes: Character sketches and designs, page layouts and notes from the artists.
About the Author
Alan Moore is perhaps the most acclaimed writer in the graphic story medium, having garnered countless awards for works such as WATCHMEN, V FOR VENDETTA, SWAMP THING and MIRACLEMAN. He is also the mastermind behind the America's Best Comics line, through which he has created (along with many talented illustrators) THE LEAGUE OF EXTRAORDINARY GENTLEMEN, PROMETHEA, TOM STRONG, TOMORROW STORIES and TOP TEN. As one of the medium's most important innovators since the early 1980s, Moore has influenced an entire generation of comics creators, and his work continues to inspire an ever-growing audience.
Advertisement