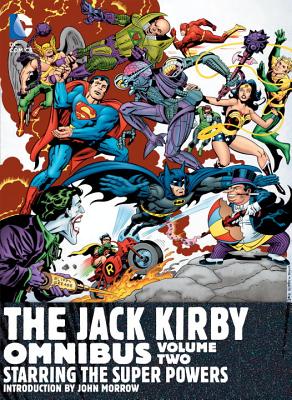 The Jack Kirby Omnibus, Volume 2 (Hardcover)
DC Comics, 9781401238339, 624pp.
Publication Date: May 7, 2013
Description
A New York Times Bestseller In the 1970s, after his incredible run of comics for Marvel including Avengers, Fantastic Four, X-Men, Thor and more, Jack Kirby returned to DC Comics to create such groundbreaking series as Kamandi, The New Gods and more. During that period, Kirby also created a number of projects that lasted only a few issues, such as The Sandman, starring a super hero who delves into the
world of dreams, as well as Atlas (from 1st Issue Special), Kobra, Kung Fu Fighter and more. Now, for the first time, these titles are collected in a massive hardcover. This volume also collects Kirby's 1980s work on the Super Powers series, based on a very popular toy line. These issues represent Kirby's only work on the Justice League of America, including Batman, Wonder Woman,
Green Lantern, Flash and more.
About the Author
Jack "King" Kirby's comics career began in 1937 and continued for nearly six decades. After his fruitful collaboration with Joe Simon ended in the late 1950s, Kirby joined Marvel Comics, where the first issue of Fantastic Four cemented his reputation as comics' preeminent creator. A slew of famous titles followed that elevated Kirby to legendary status, including Incredible Hulk, Avengers and X-Men. Kirby returned to DC in 1971 with his classic "Fourth World Trilogy," which was followed by THE DEMON, KAMANDI and OMAC. Kirby continued working and innovating in comics until his death in 1994.
Advertisement