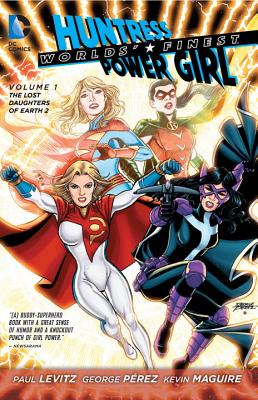 World's Finest, Volume 1: The Lost Daughters of Earth 2 (Paperback)
The Lost Daughters of Earth 2
DC Comics, 9781401238346, 144pp.
Publication Date: April 16, 2013
Description
Legendary creators Paul Levitz and artists George Perez and Kevin Maguire launch a new series featuring Power Girl and Huntress, the WORLDS' FINEST Stranded on our earth over five years ago, these two heroes from Earth 2 are forced to fight evil in strange new surroundings, all while trying to find their way home. In two separate tales, WORLDS' FINEST flashes back to how Huntress and Power Girl got to our earth and what they've been doing the past five years, and then back to the present where they fight for the fate of millions against the Irradiated Man. WORLDS' FINEST, a part of DC Comics--The New 52 Second Wave, collects issues 1-7.
About the Author
Paul Levitz entered comics in 1971 as editor of The Comic Reader, the first comics newszine, which won two Best Fanzine Comic Art Fan Awards. He has received the Inkpot Award and the Bob Clampett Humanitarian Award and serves on the Comic Book Legal Defense Fund board. Levitz is known for his writing, including an acclaimed run on the LEGION OF SUPER-HEROES, a series to which he's returned. On staff from 1973, Levitz was DC's youngest editor ever, ultimately became publisher in 1989 and president and publisher from 2002 to 2009.
Advertisement