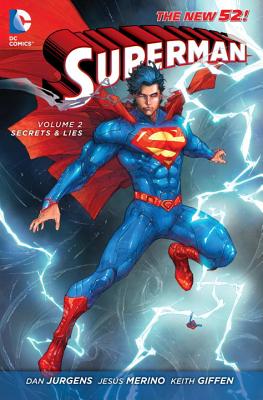 Superman Vol. 2: Secrets & Lies (the New 52) (Hardcover)
Secrets & Lies (the New 52)
DC Comics, 9781401240288, 176pp.
Publication Date: July 2, 2013
Description
Tucked away high in the Himalayas, a long dormant evil has made these snowy mountain tops its home. Helspont, a decendant of the ancient alien race of Daemonites, has enlisted an army of robots to obtain all there is to know about the Kryptonian meanace standing between him and dominion over the people of Earth. Can Helspont gain control over Superman and use him to execute his invasion plan? Or will the Earth's alien protector cast Helspont back to the planet of Daemon? Collects Superman #7-12, Superman Annual #1.
About the Author
Dan Jurgens is a writer and artist most famous for creating Booster Gold as well as for being one of the main forces behind "The Death of Superman." He has written and/or illustrated titles such as JUSTICE LEAGUE AMERICA, Captain America, The Sensational Spider-Man, Thor, TEEN TITANS, AQUAMAN, DC's Tangent imprint, and the company-wide DC crossover known as ZERO HOUR.
Praise For Superman Vol. 2: Secrets & Lies (the New 52)…
"The Man of Steel's in top form and looks really great doing what needs to be done."—iFanboy
Advertisement