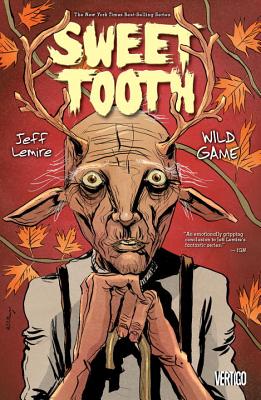 Sweet Tooth Vol. 6: Wild Game (Paperback)
Wild Game
Vertigo, 9781401240295, 200pp.
Publication Date: June 25, 2013
Description
A cross between Bambi and Cormac McCarthy's The Road, SWEET TOOTH tells the story of Gus, a rare new breed of human/animal hybrid children, who has been raised in isolation following an inexplicable pandemic that struck a decade earlier. Dr. Singh arrives in Alaska and uncovers the origins of Gus and the hybrid children and the cause of the plague that decimated the world. And as Gus and Jepperd finally arrive in Alaska and come face to face with the truth, the militia continues to bear down on them. Their deadliest battle is still ahead.
About the Author
Jeff Lemire is the creator of the acclaimed Essex County Trilogy, the Vertigo graphic novel The Nobody, and is the winner of a Xeric Award and YALSA Alex Award. He is currently the writer for DC Comics' Animal Man, Frankenstein: Agent Of S.H.A.D.E., and Vertigo/DC's Sweet Tooth. He has also previously written the Eisner-nominated Superboy.
Praise For Sweet Tooth Vol. 6: Wild Game…
"Like a Coen brothers road-trip drama, SWEET TOOTH...is a fantastic post-apocalyptic comic."—AM New York
 
"SWEET TOOTH is a grabber from the get-go...Lemire retains his gift for imbuing ordinary moments with a sense of wonder."—The Onion

"This series is a timeless tale of warning and acceptance, determination and challenge. Through that tale we've seen not only the characters, but also the creator grow."—comicbookresources.com
Advertisement