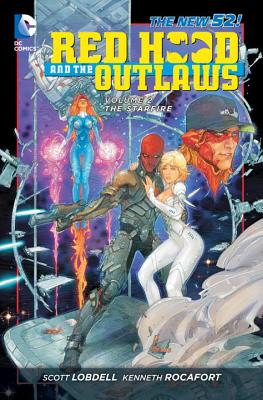 Red Hood and the Outlaws Vol. 2 (Paperback)
The Starfire (The New 52)
DC Comics, 9781401240905, 160pp.
Publication Date: July 2, 2013
* Individual store prices may vary.
Description
Part of the DC Comics - The New 52, this volume collects the second action-packed arc of New York Times best selling author Scott Lobdell.

As if Batman's former sidekick Jason Todd, now known as the Red Hood, didn't have enough problems leading the team of outlaws such as Arsenal and Starfire, now his "estranged" brother Red Robin is knocking on his door because "The Night of Owls" is here! With Batman in dire need of help, will Red Hood answer the call?

And when Jason and the team find out that Starfire is one of the most feared (and dangerous) commanders in all of space, the team will find their adventures taken to the stars and beyond to help decide the fate of the throne of Tamaran. Witness the galactic struggle between Starfire and her sister Blackfire as Red Hood and the Outlaws are caught in the middle of an interstellar war!
About the Author
Scott Lobdell is a veteran of the comic book industry, having worked with nearly every major American comic book publisher. Lobdell is best known for his work on Marvel's X-Men franchise in the 1990's, penning such works as Uncanny X-Men, Excalibur, The Age of Apocalypse, Generation X, amongst others. He is currently the writer of SUPERBOY, TEEN TITANS, and RED HOOD AND THE OUTLAWS, each a part of DC Comics - The New 52.