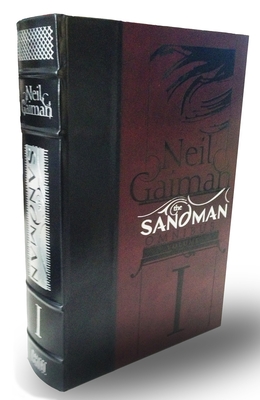 The Sandman Omnibus Vol. 1
Hardcover

* Individual store prices may vary.
Description
A New York Times Bestseller!

The Sandman is the universally lauded masterwork following Morpheus, Lord of the Dreaming—a vast hallucinatory landscape housing all the dreams of any and everyone who's ever existed. Regardless of cultures or historical eras, all dreamers visit Morpheus' realm—be they gods, demons, muses, mythical creatures, or simply humans who teach Morpheus some surprising lessons.

Upon his escape from an embarrassing captivity at the hands of a mere mortal, Morpheus finds himself at a crossroads, forced to deal with the enormous changes within both himself and his realm. His journey to find his place in a world that's drastically changed takes him through mythical worlds to retrieve his old heirlooms, the back roads of America for a twisted reunion, and even Hell itself—to receive the dubious honor of picking the next Devil. But he'll learn his greatest lessons at the hands of his own family, the Endless, who—like him—are walking embodiments of the most influential aspects of existence.

This massive hardcover tome, over 1000 pages, collects the first 37 issues of Neil Gaiman's groundbreaking series!
Praise For The Sandman Omnibus Vol. 1…
Praise for Neil Gaiman's The Sandman:

"The greatest epic in the history of comic books"—The Los Angeles Times Magazine

"One of the few comics that segued from the comics crowd, entering the intellectual and art worlds, winning over a large non-comics-reading audience..."—The Hollywood Reporter

"THE SANDMAN is a modern myth, as well as a precis on why the stories we tell matter so much."—Playboy

"The landmark comic-book series that actually made Death seem . . . cool."—Entertainment Weekly
Vertigo, 9781401241889, 1040pp.
Publication Date: September 3, 2013
About the Author
Neil Gaiman is the New York Times best-selling author of the Newbery Medal-winning The Graveyard Book and Coraline, the basis for the hit movie. His other books include Anansi Boys, Neverwhere, American Gods and Stardust (winner of the American Library Association's Alex Award as one of 2000's top novels for young adults) and the short story collections M Is for Magic and Smoke and Mirrors. He is also the author of The Wolves in the Walls and The Day I Traded My Dad for Two Goldfish, both written for children. Among his many awards are the Eisner, the Hugo, the Nebula, the World Fantasy and the Bram Stoker. Originally from England, he now lives in the United States.