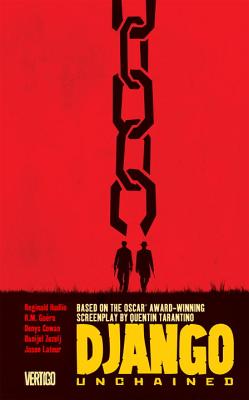 Django Unchained (Hardcover)
Vertigo, 9781401241933, 264pp.
Publication Date: November 12, 2013
Description
Set in the South two years before the Civil War, DJANGO UNCHAINED stars Django, a slave whose brutal history with his former owners lands him face-top-face with German-born bounty hunter Dr. King Schultz. Schultz is on the trail of the murderous Brittle brothers, and only Django can lead him to his bounty. The unorthodox Schultz acquires Django with a promise to free him upon the capture of the Brittles--dead or alive. Success leads Schultz to free Django, though the two men choose not to go their separate ways. Instead, Schultz seeks out the South's most wanted criminals with Django by his side. Honing vital hunting skills, Django remains focused on one goal: finding and rescuing Broomhilda, the wife he lost to the slave trade long ago. Django and Schultz's search ultimately leads them to Calvin Candie, the proprietor of "Candlyand," an infamous plantation. Exploring the compound under false pretenses, Django and Schultz arouse the suspicion of Stephen, Candie's trusted house slave. Their moves are marked, and a treacherous organization closes in on them. If Django and Schultz are to escape with Broomhilda, they must choose between independence and solidarity, between sacrifice and survival.
About the Author
Quentin Jerome Tarantino is an American film director, screenwriter, producer, and actor. He has received many industry awards, including an Academy Award, a Golden Globe Award, a BAFTA and the Palme d'Or and has been nominated for an Emmy and Grammy. Born in Knoxville, Tennessee, Tarantino was an avid film fan. His career began in the late 1980s, when he wrote and directed My Best Friend's Birthday. Its screenplay would form the basis for True Romance. In the early 1990s, he began his career as an independent filmmaker with films employing nonlinear storylines and the aestheticization of violence. His films include Reservoir Dogs (1992), Pulp Fiction (1994), Jackie Brown (1997), Kill Bill (2003, 2004), Death Proof (2007), Inglourious Basterds (2009), and the upcoming Django Unchained (2012). RM Guera is a Serbian comic book author and illustrator. His work has been published in Spain, France and the United States. His work includes the Vertigo Comics series Scalped, with writer Jason Aaron, as well as on Le Lievre de Mars, with writer Patrick Cothias for French publisher Glenat. He has lived in Barcelona, Spain since 1991.
Advertisement