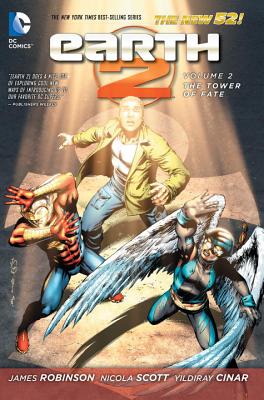 Earth 2 Vol. 2: The Tower of Fate (the New 52) (Hardcover)
The Tower of Fate (the New 52)
DC Comics, 9781401243111, 176pp.
Publication Date: October 8, 2013
Description
A New York Times Bestseller The World Army has begun rounding up the super-heros of Earth 2, but for what reason? In an attempt to avoid capture, Dr. Fate and Kid Flash find themselves in the powerful magical realm of Nabu. The protector of Nabu, Wotan, seeks Dr. Fates assistance in obtaining a secret magic locked deep within a tower that only Dr. Fate can enter. Collects issues #7-10 and 0 of the original series.
About the Author
James Robinson is English born but has lived in Southern California for almost twenty years. He has spent many of those years solely as a writer of comics, most noteworthy being THE GOLDEN AGE, STARMAN and Leave It To Chance. But he's written a whole lot more than that. Burned out from comics, he retreated to the world of screenwriting which he continues to do while, after a lengthy break, returning to his first love comics with SUPERMAN and JUSTICE LEAGUE. He resides in Hollywood.
Praise For Earth 2 Vol. 2: The Tower of Fate (the New 52)…
Praise for Earth 2 Vol. 1:

"I honestly can't find anything to criticize here. It all was simply brilliant, flowed perfectly, intrigued me and hooked me instantly. EARTH 2 is everything 'The New 52" should be.'—Aint it Cool News
Advertisement