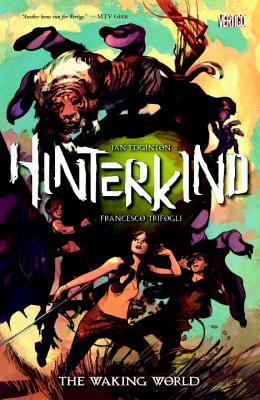 Hinterkind, Volume 1: The Waking World (Paperback)
The Waking World
Vertigo, 9781401245184, 144pp.
Publication Date: April 8, 2014
Description
In a post-apocalyptic world where humans have been pushed to the edge of extinction by the creatures of fantasy and fables, THE HINTERKIND tells the story of one young woman's quest to fulfill her destiny and put the world right again. Fifty-seven years after an unspecified biological event has all but wiped out the human race, a green hand has moved over the face of the Earth. Leaf, root and shoot have steadfastly smothered the works of man, remorselessly grinding the concrete, glass and steel back into the minerals from whence they came. Mother Nature is reclaiming what's rightfully hers but she's not the only one... The Hinterkind have returned. They come from hiding places in the lost corners of the world: Centaurs, Satyrs, Elves, Dwarves, Ogres, Trolls, Werewolves, Vampires... They're also known as 'the Hidden, ' 'the Twilight People, ' the 'walkers-in-shadow', collective names for the menagerie that mankind has hung its tales of myth and magic upon--but these aren't fairy tale creatures. They are flesh, blood and passion, and they have a long simmering hatred of humanity. They are a divergent species. Exotic evolutionary try-outs that couldn't compete with the rapacious ape. Hunted to near extinction through fear and ignorance, they fled to the great forests and deserts, losing themselves in the shrinking wilderness of an ever-expanding world. Now the wilderness is the world and mankind is in the minority. Collects THE HINTERKIND #1-6.
About the Author
Edginton sees part of the key to his success coming from good relationships with artists, especially D'Israeli and Steve Yeowell as well as Steve Pugh and Mike Collins. He is best known for his steampunk/alternative history work (often with the artist D'Israeli) and is the co-creator of Scarlet Traces, a sequel to their adaptation of H.G. Wells' The War of the Worlds. With 2000 AD he has written Leviathan, Stickleback and, with art by Steve Yeowell, The Red Seas, as well as one-off serials such as American Gothic (2005). With D'Israeli he has created a number of new series including Stickleback, a tale of a strange villain in an alternative Victorian London, and Gothic, which he describes as "Mary Shelley's Doc Savage." With Simon Davis he recently worked on a survival horror series, Stone Island, and he has also produced a comic version of the computer game Hellgate: London with Steve Pugh. He is currently working on a dinosaurs and cowboys story called Sixgun Logic. Also as part of Top Cow's Pilot Season he has written an Angelus one-shot.
Advertisement