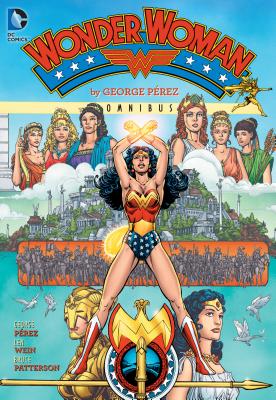 Wonder Woman by George Perez Omnibus Vol. 1 (Hardcover)
DC Comics, 9781401255473, 640pp.
Publication Date: August 25, 2015
Description
More than four decades after making her debut in ALL STAR COMICS #8, the World's Greatest Heroine was comprehensively reimagined in 1986 by legendary comics creator George Perez -- and this new incarnation of DC Comics' fabled Amazon Princess quickly rose to unprecedented levels of popular and critical acclaim. In collaboration with co-writer Len Wein and inker Bruce Patterson, Perez sent on to craft Wonder Woman's adventures for years, and his masterful stories ranged from heart-stopping battles with the Titans of myth to heart-warming interludes with Diana's trusted network of friends. Now, for the first time ever, these treasured tales from the 1980s are available in a single hardcover volume, featuring over 600 pages of Perez's unmatchable artwork and showcasing some of the most exciting moments of DC's Modern Age This deluxe omnibus edition collects issues #1-24 of the historic series along with WONDER WOMAN ANNUAL #1, and includes an insightful introduction by Perez as well as a special bonus gallery of archival art and information.
About the Author
George Perez started drawing at the age of five and hasn't stopped since. Born on June 9, 1954, Perez began his professional comics career as an assistant to Rich Buckler in 1973. After establishing himself as a penciller at Marvel Comics, Perez came to DC in 1980, bringing his highly detailed art style to such titles as JUSTICE LEAGUE OF AMERICA and FIRESTORM. After co-creating THE NEW TEEN TITANS in 1980, Perez and writer Marv Wolfman reunited for the landmark miniseries CRISIS ON INFINITE EARTHS in 1985. In the aftermath of that universe-smashing event, Perez revitalized WONDER WOMAN as the series' writer and artist, reestablishing her as one of DC's preeminent characters and bringing in some of the best sales the title has ever experienced. He has since gone on to illustrate celebrated runs on Marvel's The Avengers, CrossGen's Solus and DC's THE BRAVE AND THE BOLD.
Advertisement