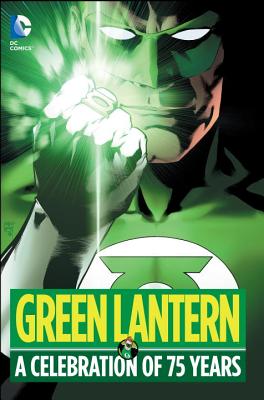 Green Lantern
A Celebration of 75 Years
Hardcover

* Individual store prices may vary.
Description
In brightest day and in blackest night, for three-quarters of a century, the hero known as Green Lantern has protected not just Earth, but the entire universe.

Bringing together stories from more than seven decades of comics, GREEN LANTERN: A CELEBRATION OF 75 YEARS features stories from all of Earth's Green Lanterns—from the wartime avenger Alan Scott to brash Guy Gardner, from solemn John Stewart to young, cool Kyle. And, of course, read the rise, fall and redemption of the greatest Green Lantern of them all, Hal Jordan.

This crash course in the history of the Emerald Crusader contains GL's Golden Age debut by Bill Finger and Martin Nodell and Silver Age reinvention at the hands of John Broome and Gil Kane, up through his modern adventures by Geoff Johns. Other legendary talents featured include Alex Toth, Dennis O'Neil, Neal Adams, Mike Grell, Darwyn Cooke, Ethan Van Sciver and Doug Mahnke.
DC Comics, 9781401258191, 400pp.
Publication Date: October 20, 2015
About the Author
Geoff Johns is an award-winning writer and one of the most popular contemporary comic book writers today. Johns is the author of the New York Times best-selling graphic novels Aquaman: The Trench, Blackest Night, Green Lantern: The Sinestro Corps War, Justice League: Origin, Superman: Brainiac and Batman: Earth One which hit number one on the bestseller list. He is also known for transforming Green Lantern into one of the most critically and commercially successful franchises in comics. Johns has written for various other media, including episodes of Smallville, Arrow, and Adult Swim's Robot Chicken, for which he was nominated along with his co-writers for an Emmy. He is the Chief Creative Officer of DC Entertainment and resides in Los Angeles, California.

Gil Kane is recognized as one of the most influential artists in comic books, with a string of credits at DC, Marvel, and other companies that includes Batman, Superman, Green Lantern, The Atom, The Flash, Conan, T.H.U.N.D.E.R. Agents, and many others. In the late 1950s and early 1960s, he was the artist tapped to relaunch both Green Lantern and The Atom, and, during the '60s, he was responsible for the first mass-market comic books, including the magazine His Name is Savage and the illustrated paperback novel Blackmark. With writer Ron Goulart, Kane created the newspaper comic strip Star Hawks.
or
Not Currently Available for Direct Purchase