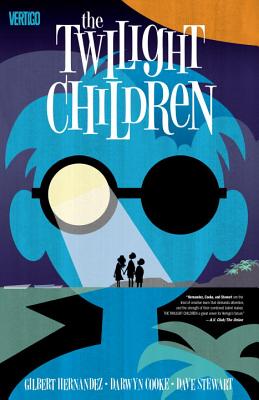 The Twilight Children (Paperback)
Vertigo, 9781401262457
Publication Date: May 17, 2016
* Individual store prices may vary.
Description
Comics legends Gilbert Hernandez (Love and Rockets), Darwyn Cooke (DC: THE NEW FRONTIER) and Dave Stewart (Hellboy) craft a haunting and unforgettable tale of magical realism with THE TWILIGHT CHILDREN.

No one knows what the mysterious glowing spheres are, or where they come from. The only thing that matters to the residents of the beachside village where the orbs manifest is what they do when they appear.

They blind children and imbue them with psychic abilities. They destroy homes, and make entire families disappear. They attract scientists, government experts and secret agents, each with their own agenda. And they inflame small-town passions—secret lovers, simmering resentments—to a fever pitch.

Now, they've brought Ela. Materializing on the beach just as mysteriously as one of the orbs, this beautiful woman says nothing, but seems to harbor unspeakable power. Will she help to save the town, or destroy it? Or is it Ela herself who is really in danger?

Collects the four-issue VERTIGO miniseries.
About the Author
Gilbert Hernandez lives in Las Vegas, NV, with his wife and daughter. He is co-creator of the long-running, award-winning, and critically acclaimed series LOVE AND ROCKETS. His books include CHANCE IN HELL, THE TROUBLEMAKERS, LUBO, PALOMAR, SPEAK OF THE DEVIL, SLOTH, THE HIGH SOFT LISP, YEAH!, and many books in the LOVE AND ROCKETS series.
Praise For The Twilight Children…
"A mesmerizing tale of eerie and extraordinary events in a most unassuming setting…one of the year's must-read books."
—Matt Wagner, creator of Mage and Grendel
 
"Hernandez, Cooke, and Stewart are the kind of creative team that demands attention, and the strength of their combined talent makes The Twilight Children a great omen for Vertigo's future." –A.V. Club/The Onion
 
"…every bit as good as you'd expect from a series featuring writer Gilbert Hernandez, artist Darwyn Cooke and colorist Dave Stewart." –IGN
 
 "… another expertly crafted example of Gilbert Hernandez's unique vision and talents, and a delightful reminder of why Pulitzer-Winning author Junot Diaz once said he should be deemed 'one of the greatest American storytellers.'" – PopMatters
 
"…it's not just good -- it's phenomenal…Simply amazing and highly recommended." –Comic Book Resources
or
Not Currently Available for Direct Purchase