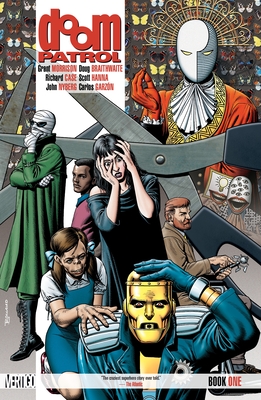 Doom Patrol Book One (Paperback)
DC Comics, 9781401263126, 424pp.
Publication Date: February 23, 2016
* Individual store prices may vary.
Description
The groundbreaking series from Grant Morrison that led American comics in a wholly unexpected direction.

Originally conceived in the 1960s by the visionary team of writer Arnold Drake and artist Bruno Premiani, the Doom Patrol was reborn a generation later through Grant Morrison's singular imagination.

Though they are super-powered beings, and though their foes are bent on world domination, convention ends there. Shunned as freaks and outcasts, and tempered by loss and insanity, this band of misfits faces threats so mystifying in nature and so corrupted in motive that reality itself threatens to fall apart around them—but it's still all in a day's work for the Doom Patrol.

Written by Grant Morrison and featuring art by Richard Case, John Nyberg, Doug Braithwaite, Scott Hanna and Carlos Garzón, DOOM PATROL BOOK ONE collects issues #19-34 and includes introductions by Morrison and editor Tom Peyer.
About the Author
Grant Morrison has been working with DC Comics for more than twenty years, beginning with his legendary runs on the revolutionary titles ANIMAL MAN and DOOM PATROL. Since then he has written numerous best-sellers -- including JLA, BATMAN and New X-Men -- as well as the critically acclaimed creator-owned series THE INVISIBLES, SEAGUY, THE FILTH, WE3 and JOE THE BARBARIAN. Morrison has also expanded the borders of the DC Universe in the award-winning pages of SEVEN SOLDIERS, ALL-STAR SUPERMAN, FINAL CRISIS and BATMAN, INC., and he is currently reinventing the Man of Steel in the all-new ACTION COMICS.

In his secret identity, Morrison is a "counterculture" spokesperson, a musician, an award-winning playwright and a chaos magician. He is also the author of the New York Times best-seller Supergods, a groundbreaking psycho-historic mapping of the superhero as a cultural organism. He divides his time between his homes in Los Angeles and Scotland.