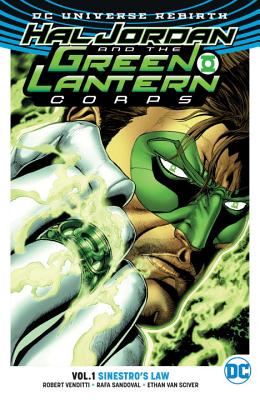 Hal Jordan and the Green Lantern Corps Vol. 1 (Paperback)
Sinestro's Law (Rebirth)
DC Comics, 9781401268008, 192pp.
Publication Date: February 14, 2017
Other Editions of This Title:
Paperback (6/6/2017)
Paperback (1/9/2018)
Paperback (8/22/2017)
Paperback (9/25/2018)
Paperback (1/8/2019)
* Individual store prices may vary.
Description
Fear has a color. It's the gruesome glow of yellow, wielded by the totalitarian tyrant Sinestro and his Yellow Lanterns. And now the entire universe is bathed in its sinister light. The Sinestro Corps have replaced the Green Lanterns as the peacekeepers of the galaxy. 
 
Oa, the homeworld of the Guardians and their Green Lantern Corps, is no more. In its place at the center of the universe orbits Warworld, Sinestro's home base. The Green Lanterns have vanished, leaving no one to oppose the Sinestro Corps' reign of terror.
 
No one, that is, except the last Lantern: Hal Jordan.
 
Convicted of crimes he didn't commit, reduced to a being of pure thought and will, Hal must now battle back from the brink to reform the Corps and free all of creation from his archenemy's iron fist. 
 
Sinestro's word is law…but Hal Jordan is the lawbreaker!
 
Collects issues #1-7 and the HAL JORDAN AND THE GREEN LANTERN CORPS: REBIRTH one-shot special.
About the Author
Robert Venditti is the New York Times best-selling author of THE HOMELAND DIRECTIVE and the sci-fi graphic novel series THE SURROGATES, the first installment of which was adapted into a feature film starring Bruce Willis and Ving Rhames. He also writes the graphic novel adaptations of Rick Riordan's bestselling PERCY JACKSON AND THE OLYMPIANS novels. His most recent projects include X-O MANOWAR, GREEN LANTERN and THE FLASH.
Praise For Hal Jordan and the Green Lantern Corps Vol. 1: Sinestro's Law (Rebirth)…
"This is the Green Lantern book we've needed for a long time."—IGN
 
"A space-faring delight."—Comic Book Resouces
 
 "Every issue is packed with action."—Comicosity