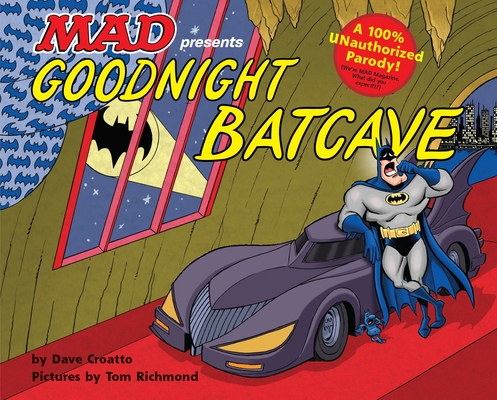 Goodnight Batcave (Hardcover)
MAD, 9781401270100
Publication Date: October 25, 2016
* Individual store prices may vary.
Description
A 100% UNauthorized Goodnight Moon parody—as only the world-(in)famous MAD Magazine can do it!
 
Batman may be ready for bed—but crime never sleeps! And before the Caped Crusader can turn in for the night, he'll have to deal with villains like the Joker, Bane, Mr. Freeze, Catwoman and the Penguin! If the Dark Knight ever hopes to catch some z's, he'll have to catch Gotham's most dangerous criminals first!
 
In this all-new story from the Usual Gang of Idiots at MAD Magazine, the best-selling children's book Goodnight Moon is parodied with the heroes and villains from the world of DC Comics' Batman!
About the Author
Dave Croatto began contributing to MAD as a college intern, was hired as an editor soon after graduating and has been with the magazine ever since. Croatto has written everything from ad parodies to TV satires to self-congratulatory bios such as this.

Tom Richmond is a freelance illustrator from Burnsville, Minnesota. His award winning work has appeared in comic books, magazine, products, television and film, books and advertising since 1985. He is best known as one of "The Usual Gang of Idiots" for MAD Magazine, where he has illustrated MAD's trademark movie and TV parodies and other features since 2000.