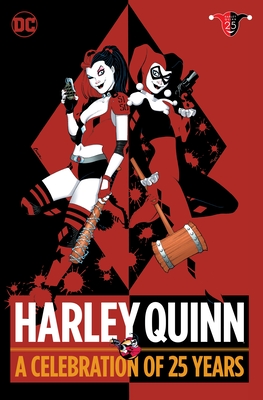 Harley Quinn
A Celebration of 25 Years
Hardcover

* Individual store prices may vary.
Description
From her animated adventures to her bloody stint in the Suicide Squad, Harley Quinn: A Celebration Of 25 Years captures the greatest comic book moments of the Joker's main moll, brought to life by industry legends Paul Dini, Bruce Timm, Jim Lee, Jeph Loeb, Amanda Conner, Jimmy Palmiotti, Karl Kesel, Terry Dodson and more!
 
The true embodiment of the phrase "madly in love," Harley Quinn may be stark, raving, cuckoo-pants crazy, but she is a woman who stands by her man. Filled with an inexplicable devotion to Batman's nemesis, the Joker, she's the Clown Prince of Crime's most loyal companion. 
 
But while her monstrous "Mistah J" may have led her to a life of crime, he also brought her comic book superstardom! It's been 25 years since she made her debut, but Harley Quinn's popularity continues to grow, spreading from animation to comic books to video games to live-action feature films, with no sign of slowing down. 
 
Collects Batman Adventures Annual #1; Batman Adventures Holiday Special #1; Batgirl Adventures #1; Batman Adventures #3; Batman Adventures #16; Batman/Harley Quinn #1; Harley Quinn #1, #25; Harley And Ivy: Love On The Lam; Batman #613; Joker's Asylum II: Harley Quinn #1; Suicide Squad (Vol. 3) #6-7; Harley Quinn (Vol. 2) #2; Harley's Little Back Book #1; and Suicide Squad (Vol. 4) #4.
DC Comics, 9781401275990, 400pp.
Publication Date: September 19, 2017
About the Author
Paul Dini is a multiple Emmy and Eisner Award winning writer and producer who has helped redefine the legends of the DC Universe in such series as The New Batman/Superman Adventures, Batman Beyond, Kyrpto and Justice League Unlimited. In doing so, he co-created one of the most popular characters in comics in Harley Quinn, who originated as a character in Batman: The Animated Series. In comics he has authored The World's Greatest Super-Heroes, illustrated by Alex Ross. Dini has also collaborated with Chip Kidd on Batman Animated for HarperCollins.