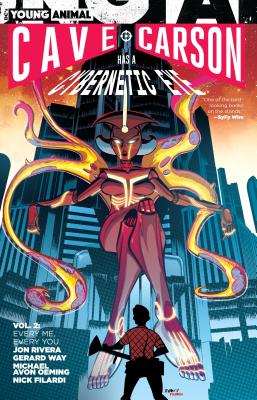 Cave Carson Has a Cybernetic Eye Vol. 2 (Paperback)
Every Me, Every You
DC Comics, 9781401277475, 160pp.
Publication Date: February 13, 2018
Other Editions of This Title:
Paperback (7/4/2017)
* Individual store prices may vary.
Description
DC's Young animal presents the mind-bending, modern-day misadventures of DC's classic Silver Age hero continued in CAVE CARSON HAS A CYBERNETIC EYE VOL. 2: EVERY ME, EVERY YOU.

Cave Carson has a cybernetic eye--or more accurately, he had a cybernetic eye. After Team Carson's run-in with the Whisperer and his fanatical cult deep below the Earth's surface, the eye has gone AWOL. But why? What could a cognizant ocular computer be chasing? And perhaps most important, how can Cave and company put it back where it belongs?

Whatever the answers are, the subterranauts better find them soon--because the Whisperer's (very quiet) reign of terror is far from over. Soon his tentacles will cover the entire globe, conquering humanity and paving the way for an extradimensional invasion beyond imagining.

Can Cave and his allies--including Doc Magnus and the Metal Men--uncover the truth about his roving eye and stop the Whisperer for good? Or is this really a job for...Superman?!

From the creative team of Jon Rivera, Michael Avon Oeming and Nick Filardi, under the watchful (but admittedly non-cybernetic) eye of DC's Young Animal founder (and My Chemical Romance frontman) Gerard Way! Collects issues #7-12.
About the Author
Jon Rivera is a writer of comic books and graphic novels, best known for his work on DC's Young Animal. CAVE CARSON HAS A CYBERNETIC EYE, co-written by imprint founder Gerard Way, is one of the line's inaugural titles.
Praise For Cave Carson Has a Cybernetic Eye Vol. 2: Every Me, Every You…
"Not only possesses the best title of any comic in recent memory--the third launch of Gerard Way's Young Animal imprint is one of the wildest and most inventive comics in years." --PASTE MAGAZINE

"Another strong debut for the Young Animal imprint." --NEWSARAMA

"It's a compelling character study of a man grieving the loss of his wife and trying to maintain his connection to his daughter while dealing with a dramatic increase in strange shit surrounding him. Gerard Way and Jon Rivera's story is rooted in the pulp adventurer past of their title character, but it's moving in a much more high-concept direction that blends a number of genres into something unique and engaging."--A.V. CLUB/THE ONION