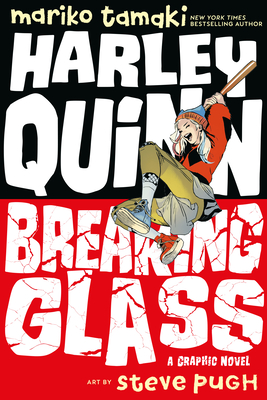 Harley Quinn
Breaking Glass
Paperback

* Individual store prices may vary.
Description
Mulitple Eisner Award Nominee, Harley Quinn: Breaking Glass features the outspoken, rebellious, and eccentric fifteen-year-old Harleen Quinzel. With five dollars to her name, she's sent to live in Gotham City after battling a lot of hard situations as a kid. But everything changes when Gotham's finest drag queen, Mama, takes her in.

And at first it seems like Harleen has finally found a place to grow into her most "true true," with new best friend Ivy at Gotham High. But then Harley's fortune takes another turn when Mama's drag cabaret becomes the next victim in the wave of gentrification that's taking over the neighborhood.

Now Harleen is mad. In turning her anger into action, she is faced with two choices: join Ivy, who's campaigning to make the neighborhood a better place to live, or join The Joker, who plans to take down Gotham one corporation at a time.

From Eisner Award and Caldecott Honor-winning author Mariko Tamaki (This One Summer) and Eisner Award-nominated artist Steve Pugh (The Flintstones) comes a coming-of-age story about choices, consequences, and how a weird kid from Gotham goes about defining her world for herself.
Praise For Harley Quinn: Breaking Glass…
"The fast-paced plot enhanced by Harley's trademark style of speech examines the impact of gentrification, and Harley's character development follows a redemptive arc that will have readers rooting for her and her colorful family. A riotous read." —Kirkus Reviews

"Mariko Tamaki's voice is absolute perfection in this altogether refreshing spin on a young Harleen Quinzel's beginnings. Anchored by stunning art by Steve Pugh, readers get to revel in a Gotham City that has drag queens fighting gentrification, a familiar-named practical activist going against an all-consuming corporation, and an endearing delinquent just trying to find the fairy tale that fits her remarkable life. Shantay you stay (on my bookshelf for decades to come), Breaking Glass."
—Sina Grace, GLAAD Media Award nominated author of Iceman
 
"Breaking Glass is a standout achievement that demonstrates the unique blend of words, pictures, and color that comics offer. With its diverse cast and respect for the essential natures of long-beloved characters, Harley Quinn: Breaking Glass should appeal to comic book newcomers as well as longtime fans." —Foreword Reviews

"A modern, funny, and satisfyingly fresh take on the origin of a superhero revolutionary." – School Library Journal Anna Murphy, Berkeley Carroll School, Brooklyn
DC Ink, 9781401283292, 208pp.
Publication Date: September 3, 2019
About the Author
Mariko Tamaki is a Canadian writer living in Oakland. Works include New York Times bestseller This One Summer and Skim with Jillian Tamaki, Emiko Superstar with Steve Rolston and the YA novel (You) Set Me on Fire. This One Summer was the winner of Printz and Caldecott Honors in 2015 and received the Eisner award for Best Graphic Album (New).