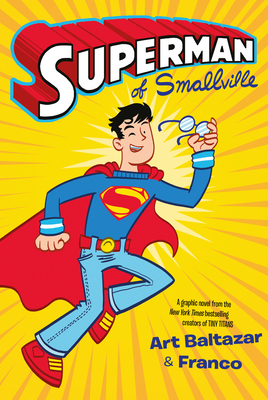 Superman of Smallville
Paperback

* Individual store prices may vary.
Description
Can Superman keep Smallville from going to the dogs?

Acts of awesomeness are happening around town. People are being rescued, runaway tractors stopped, and fires extinguished. This is all in a day's work for the hero known only as "Superman." But who is he, really?

Thirteen-year-old Clark Kent knows. He has a super-secret--one his parents are constantly worried will get out. Clark promises to be extra careful, but when random objects in downtown Smallville begin to take flight and disappear, his parents threaten to ground him. Except he's innocent! If Superman isn't responsible...who is? Join Clark in his hilarious adventure as he sniffs out the real culprit.

From New York Times--bestselling and Eisner Award-winning creators Art Baltazar and Franco, comes a fun, whimsical story featuring young Lana Lang, Lex Luthor, and of course Clark Kent.
DC Zoom, 9781401283926, 144pp.
Publication Date: September 3, 2019
About the Author
Bronx-born writer and artist Franco Aureliani has been drawing comics since he could hold a crayon. Currently residing in upstate New York with his wife, Ivette, and son, Nicolas, he spends most of his days in his Batcave-like studio where he produces DC's Tiny Titans comics. In 1995, Franco founded Blindwolf Studios, an independent art studio where he and fellow creators can create children's comics. Franco is the creator, artist and writer of Weirdsville, L'il  Creeps, and Eagle All Star, as well as the co-creator and writer of Patrick the Wolf  Boy. When he's not writing or drawing, Franco also teaches high school art.

Born in Chicago, Art Baltazar found his way early to comic book art and has been cartooning ever since he can recall, self-publishing in 1994 with such titles as The Cray-Baby Adventures, Gyro-Man, Captain Camel & the Space Chicken, Jimmy Dydo, Lunar Lizard, Meteor Mite and the famous Patrick the Wolf Boy. Art also created an autobiographical graphic novel called The Big Amoeba for Platinum Studios. He lives outside of Chicago with his wife, Rose, and their children Sonny, Gordon, and Audrey.