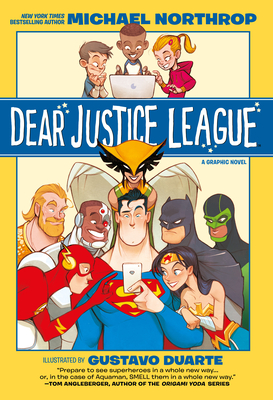 Dear Justice League
Paperback

* Individual store prices may vary.
Description
Hello! Justice League here. Ask us anything!

Does Superman ever make mistakes? Does Wonder Woman have to listen to her parents? Does Aquaman smell like fish? The greatest heroes in the DC Comics Universe, the Justice League, answer mail from their biggest fans--kids!

From New York Times bestselling author of TombQuest, Michael Northrop, comes a new middle grade graphic novel series where iconic heroes are asked questions both big and small and, when they're not busy saving the world, the Justice League even finds time to respond. Their honest and humorous answers will surprise and delight readers of any age, as it turns out that being a superhero is not too different from being a kid.

Full of feats, follies, and colorful illustrations by Gustavo Duarte, Dear Justice League gives readers the inside scoop into everyday heroics, no matter who wears the cape!
Praise For Dear Justice League…
"A clever idea, smartly executed." –NPR

"The heroes we love are more lovable than ever in this clever, laugh-out-loud funny and action-packed adventure. Dear Justice League definitely does the JLA justice!" —Jerry Craft, author of New Kid

"Dear Justice League really surprised me. That was a level of clever I haven't seen in comics in a long time." --Tom Angleberger, author of the Origami Yoda series

"Northrop's freewheeling tenor captures the fun in each situation but allows them to humanize the heroes as well, poking humorous holes in the likes of Batman's foreboding manner and Aquaman's swaggering braggadocio. Duarte matches this sensibility with heroically gleaming figures whose characteristics are amusingly exaggerated just enough to pull them a little closer to earth." —Booklist

"This new book, written by Michael Northrop with illustrations by Gustavo Duarte, looks and reads fantastically. I cannot wait to get this for my daughter." –Nerd-O-Rama

"Dear Abby" meets the DC universe. Young superhero fans and reluctant readers will devour this sweet and funny graphic novel." –School Library Journal
DC Zoom, 9781401284138, 176pp.
Publication Date: August 6, 2019
About the Author
Michael Northrop is the New York Times bestselling author of Scholastic's new multi-platform series, TombQuest. His first young adult novel, Gentlemen, earned him a Publishers Weekly Flying Start citation, and his second, Trapped, was an Indie Next List selection. His first middle-grade novel, Plunked, was named one of the best children's books of the year by the New York Public Library and was selected for NPR's Backseat Book Club. He is originally from Salisbury, Connecticut, a small town in the foothills of the Berkshire mountains, where he mastered the arts of BB gun shooting, tree climbing, and field goal kicking with only moderate injuries. After graduating from NYU, he worked at Sports Illustrated Kids magazine for 12 years, the last five of those as baseball editor.

Gustavo Duarte is a Brazilian cartoonist, graphic designer and a comics creator and currently resides in São Paulo. For the last 20 years, Duarte's cartoons and illustrations have been published in some of the most popular publications in Brazil. In 2009, Duarte began publishing his own comics like Monsters!, Có!, Birds and others. In addition to his own works, he has also written and illustrated comics for major publishers including DC (Bizarro) and Marvel (Guardians of the Galaxy and Lockjaw), among others.