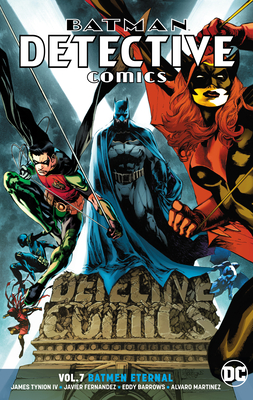 Batman
Detective Comics Vol. 7: Batmen Eternal
Paperback

* Individual store prices may vary.
Other Editions of This Title:
Paperback (2/7/2017)
Paperback (5/16/2017)
Paperback (6/26/2018)
Paperback (4/10/2018)
Description
They were the greatest team of crime-fighters Gotham City has ever known. Now that team has been shattered.

Clayface is dead, killed by Batwoman after his path to redemption led to disaster. The Bat-Family--Nightwing, Red Robin, Batgirl, the Red Hood, Robin and the Dark Knight himself--must decide what to do about their prodigal partner.

But Batwoman has been offered control of an army, with Batwing and Azrael following in her footsteps. Now these two rival forces are at each other's throats. As the family feud between cousins Bruce Wayne and Kate Kane threatens to tear Gotham City apart, Cassandra Cain and Stephanie Brown are caught in the crossfire.

And behind it all, a sinister cybernetic force is at work to transform Red Robin into the ultimate weapon, and therefore lock Gotham into its worst possible future.

To reunite his team and save his city, Batman must trust all those who wear the emblem of the Bat. Because fight or fall, they'll all do so together.

Featuring the art of Javier Fernandez, Eddy Barrows, Alvaro Martinez and more, writer James Tynion IV's epic saga of Batman and his allies reaches its incredible conclusion in these final chapters from Detective Comics #975-981.
Praise For Batman: Detective Comics Vol. 7: Batmen Eternal…
"James Tynion IV has done remarkable work crafting compelling drama around the Bat-family with his Detective Comics run." --A.V. Club

"Tynion might be leaving Gotham, but he's leaving after accomplishing the best goal of every Batman writer since Bill Finger and Bob Kane: making a lasting mark on a character who was here before they were, and will be here for decades afterward as well." --Polygon
DC Comics, 9781401284213, 176pp.
Publication Date: September 11, 2018
About the Author
James Tynion IV started in the comics business assisting Scott Snyder in writing backup stories for Snyder's groundbreaking Batman series. Tynion soon began writing Talon, a series that spun out of the hugely popular "Batman: The Court of Owls" storyline. He has also written Constantine: The Hellblazer and Red Hood and The Outlaws and is currently at the helm of Batman:Detective Comics.