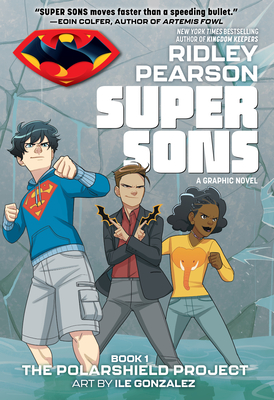 Super Sons
The PolarShield Project
Paperback

* Individual store prices may vary.
Description
Jon Kent and Ian Wayne are opposites in every way except one--they are the sons of the World's Greatest Heroes, Superman and Batman! To uncover a global conspiracy, this unlikely duo will need to learn to trust each other and work together to save the Earth. But who is the mysterious Candace, and what secrets does she hold that could be the key to everything?

The polar ice caps have nearly melted away, causing devastation to coastal cities. Erratic, deadly weather forces everyone inland, tearing families apart. Earth is facing its greatest crisis--and Superman and Batman are nowhere to be found.

From New York Times bestselling author Ridley Pearson (Kingdom Keepers) and artist Ile Gonzalez comes the first book in an epic new series that follows the Super Sons of Superman and Batman as they struggle to find their place in a rapidly changing world!
Praise For Super Sons: The PolarShield Project…
"Ridley Pearson knocks it out of the park with this supersonic tale." —Eoin Colfer, author of the Artemis Fowl series

"Precocious, poignant, and powerful!... I hope you packed a lunch, because you're not gonna want to put this book down." —Joey Bragg, actor from the Disney Channel's Liv and Maddie

"As the breathtaking action unfolds, the mysteries pile up—and there is danger on every page. My kind of story! I want to see more, more, MORE!" —R.L. Stine, author of Goosebumps and Fear Street

"This adventure mixes several popular elements, such as superheroes, mysteries, and global warming. For kids who enjoy suspenseful adventures about saving the world and superhero-adjacent stories." —School Library Journal

"Pearson integrates timely elements through the focus on climate change and allusions to the refugee experience, while Gonzalez's artwork is vivid and crisp, riffing on a classic comic style. Pearson and Gonzalez's take on the iconic figures offers good fun, especially for young readers who are just discovering the DC universe." —Publishers Weekly

"This all-new Super Sons is a surefire, fun read as four young strangers meet and band together against the looming backdrop of global doom." —Dan Jurgens, author, The Adventures of Superman and Batman Beyond 

"A super-fun, super-exciting, and most of all super-story!" 
—Peter J. Tomasi, author, Super Sons, Batman: Detective Comics, Superman  

"Pearson's first graphic novel series shows how much young people can step up to challenges when need be, all while growing a little more into the adults they will soon become… Even while tackling large-scale global issues, one of the more enduring things about this book is the focus on character." —GeekMom

"This book has it all: action, adventure, mystery, and plenty of obstacles for our next generation superheroes to overcome." —Story Monsters Ink
DC Zoom, 9781401286392, 160pp.
Publication Date: April 2, 2019
About the Author
Ridley Pearson is the best-selling coauthor (with Dave Barry) of Peter and the Starcatchers, Peter and the Shadow Thieves, Peter and the Secret of Rundoon, Escape from Carnivale, Cave of the Dark Wind, Blood Tide, and Science Fair. He is also the author of eighteen novels, including internationally best-selling series Kingdom Keepers, Cut and Run, and The Middle of Nowhere. The stage adaptation of Peter and the Starcatchers earned the most Tony nominations (9) of any play in history.

Ile Gonzalez illustrated her first comic strip while in kindergarten, and grew up to study fashion design in college. Deciding that graphic storytelling was her first true love, she refocused her creative effort and landed her first paid work at the digital storytelling company Madefire, working exclusively for them to co-create their popular middle-grade series The Heroes Club. Super Sons is her first graphic novel, and her first project for DC.
or
Not Currently Available for Direct Purchase