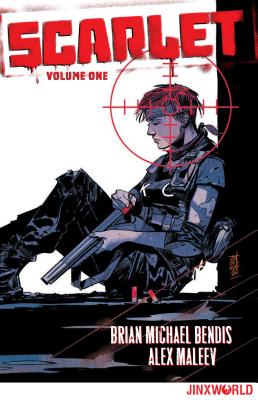 Scarlet Vol. 1 (Paperback)
Jinxworld, 9781401290627, 144pp.
Publication Date: April 30, 2019
* Individual store prices may vary.
Description
Power. Corruption. Lies. In a country much like our own, these forces were wielded against innocent people everywhere, and the spark that finally lit the fires of rebellion could have come from anyone.

But the new American Revolution began in the streets of Portland, Oregon--and it was Scarlet Rue who struck the match.

Striking back against the corrupt police who tore her life apart, Scarlet has become a counterculture sensation and the leader of an uprising that has reclaimed her city from the powers that controlled it. Now her insurrection is spreading, and the system--from the police all the way up to the president--will stop at nothing to smother it once and for all.



Can Scarlet control the chain reaction she has started? Or will her revolution end right where it began?

They transformed the superhero comic with Daredevil and hit new heights with Iron Man. Now the Eisner Award-winning creative team of Brian Michael Bendis and Alex Maleev reunite to give their acclaimed creator-owned series a brand-new beginning with Scarlet Vol. 1--a fearless political thriller that grows closer to reality every day. Join the revolution! Collects issues #1-5.
About the Author
Brian Michael Bendis is an award-winning comics creator, New York Times bestseller and one of the most successful writers working in mainstream comics. In his 20 years at Marvel Comics, he produced some of the greatest graphic novels the publisher has ever seen, including Daredevil, Ultimate Spider-Man, New Avengers, House of M, Secret Invasion, Avengers: Age of Ultron, Alias, All-New X-Men, Uncanny X-Men, Iron Man, Guardians of The Galaxy and many more. Bendis is also known for his the creator-owned works, including Powers, Scarlet, Brilliant, Goldfish, Fire, Jinx and Torso. He lives in Portland, OR with his family.
Praise For Scarlet Vol. 1…
"Scarlet is a comic that only seems to grow more relevant with time." —IGN
 
"Bendis & Maleev's Scarlet is fighting the power harder than ever." —CBR
 
"The art is gorgeous!" —Comicsverse