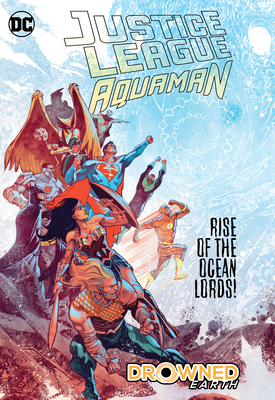 Justice League/Aquaman (Hardcover)
Drowned Earth
DC Comics, 9781401291013, 232pp.
Publication Date: April 16, 2019
* Individual store prices may vary.
Description
The Dark Knight. The Man of Steel. The Amazon Princess. The King of Atlantis. Aided by their friends in the Justice League in the world above the surface--and by the power of Queen Mera in the world below--Batman, Superman, Wonder Woman and Aquaman protect and defend the peoples of Earth like the heroes and gods of legend.

But some gods are more than legend. Some hatreds are more powerful than any hero. And some evils are older and deeper than the sea.

From darkness untold, the Ocean Lords have arisen. These ancient gods have an undying grudge against Arthur, Mera, Diana and the rest of the Justice League--a thirst for vengeance not even the vastest waters can slake. With
Aquaman's nemesis Black Manta as the tip of their spear and an entire armada at their command, they are set to unleash a cosmic flood that will sweep the entire world away.

Can Aquaman and his incredible allies stop the deluge of destruction? Or will everything they hold dear go under?

From New York Times best-selling author Scott Snyder (Dark Nights: Metal) and a fleet of the industry's greatest writers and artists comes Justice League/Aquaman: Drowned Earth--an unprecedented crossover event starring pop culture's most iconic characters!

Collects Justice League/Aquaman: Drowned Earth #1, Justice League #10-12, Aquaman #40-41, Titans #28 and Aquaman/Justice League: Drowned Earth #1.
About the Author
Scott Snyder is a #1 New York Times best-selling writer and one of the most critically acclaimed scribes in all of comics. His works include Dark Nights: Metal, All-Star Batman, Batman, Batman: Eternal, Superman Unchained, American Vampire and Swamp Thing. He has also been published in Zoetrope, Tin House, One Story, Epoch, Small Spiral Notebook and other journals, and has a short-story collection, Voodoo Heart, which was published by Dial Press. He teaches at Columbia University and Sarah Lawrence University and lives in New York with his wife, Jeanie, and his son, Jack Presley.
Praise For Justice League/Aquaman: Drowned Earth…
"An action-packed high-stakes story." —Syfy Wire
 
"A visually stunning book." —Nerdist