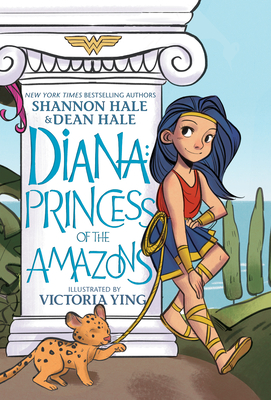 Diana (Paperback)
Princess of the Amazons
DC Zoom, 9781401291112, 144pp.
Publication Date: January 7, 2020
* Individual store prices may vary.
Description
From New York Times bestselling authors Shannon Hale and Dean Hale comes a heartfelt story about making mistakes, learning the hard way, and growing up to become a hero.

Eleven-year-old Diana leads an idyllic life on the island of Themyscira. Cut off from the rest of the world, she's beginning to feel a little alone. Though she has a loving mother and many "aunties," she is an only child. In fact, the only child on the entire island!

After an escapade goes wrong, Diana gets in trouble for not living up to the Amazonian standard. She just can't seem to measure up no matter what she does. Every other person on the island is an adult proficient in their trade and mighty in body, while she is gangly, sometimes clumsy, and not particularly good at anything. She's not Wonder Woman... yet anyway. What Diana needs is a friend; someone her own age whom she can talk to. But when she decides to take matters into her own hands, she encounters the unexpected!
About the Author
Shannon and Dean Hale are the husband-and-wife writing team behind Eisner-nominee Rapunzel's Revenge (illustrated by Nathan Hale), New York Times best-selling series The Princess in Black (illustrated by LeUyen Pham), and two novels about Marvel's Squirrel Girl. Shannon Hale is also the author of the Newbery Honor-winning novel Princess Academy, the USA Today best-selling Ever After High series, the graphic novel memoir Real Friends, and others. Shannon and Dean live in Utah with their four children, who all agree that Wonder Woman is one of the greatest superheroes of all time.

Victoria Ying is an author and artist living in Los Angeles. She started her career in the arts by falling in love with comic books, which eventually turned into a career working in Animation. She loves Japanese curry, putting things in her shopping cart online and taking them out again and hanging out with her dopey dog. Her film credits include Tangled, Wreck-it Ralph, Frozen, Paperman, Big Hero 6, and Moana. She has illustrated several picture books including Not Quite Black and White, Lost and Found What's that Sound, and Take a Ride by My Side, and is the writer and illustrator of Meow! Diana, Princess of the Amazons is her debut graphic novel.