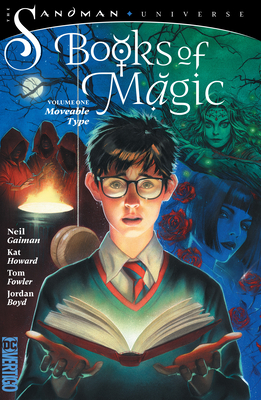 Books of Magic Vol. 1 (Paperback)
Moveable Type (The Sandman Universe)
Vertigo, 9781401291341, 200pp.
Publication Date: July 16, 2019
* Individual store prices may vary.
Description
One of four books expanding Neil Gaiman's acclaimed Sandman Universe. Timothy Hunter may be destined to become the most powerful magician in the universe, but he's still a London teenager, and having magical abilities is about to turn his world upside down!

While Tim's trying to study and attract the cutest girl in his class, there are cultists who want to kill him, believing his magical powers will eventually corrupt him, turning him into a merciless mage that will bring upon the end of magic forever! But when a mysterious new substitute teacher for his school called Dr. Rose wants to mentor and educate him in the magical arts so that he can discover the secrets behind the Books of Magic, Tim believes he has the tools to find his missing mother. Is this sudden guidance too good to be true, and what connection--if any--does Rose have to the disappearance of Tim's teacher Mr. Brisby?

The Sandman Universe is a new series of books curated by Neil Gaiman for DC Vertigo. Conjuring epic storytelling and immersing readers into the evolving world of the Dreaming, The Sandman Universe begins anew with four new ongoing series, existing in a shared universe, building upon Gaiman's New York Times best-selling series that lyrically weaved together stories of dreams and magic.

From acclaimed author Kat Howard (Roses and Rot, An Unkindness of Magicians) and art from Tom Fowler (The Unbeatable Squirrel Girl, Hulk: Season One, Rick and Morty) Books of Magic picks up right where Neil Gaiman left off in 1991!

Collects Books of Magic #1-6 and Sandman Universe Special #1
About the Author
Kat Howard is the author of novels Roses and Rot, a 2017 Locus Award finalist, and An Unkindness of Magicians, an NPR Best Book of 2017 and 2018 Alex Award winner. Forthcoming this fall is her collection, A Cathedral of Myth and Bone, which includes short fiction that has been nominated for the World Fantasy Award and performed as part of Selected Shorts.

Bestselling author Neil Gaiman has long been one of the top writers in comics, and also writes books for readers of all ages. He is listed in the Dictionary of Literary Biography as one of the top ten living post-modern writers, and is a prolific creator of works of prose, poetry, film, journalism, comics, song lyrics, and drama. Gaiman's work has been honored with many awards internationally, including the Newbery and Carnegie Medals. His books and stories have also been honored with four Hugos, two Nebulas, a World Fantasy Award, four Bram Stoker Awards, six Locus Awards, two British SF Awards, A British Fantasy Award, three Geffens, an International Horror Guild Award and two Mythopoeic Awards.