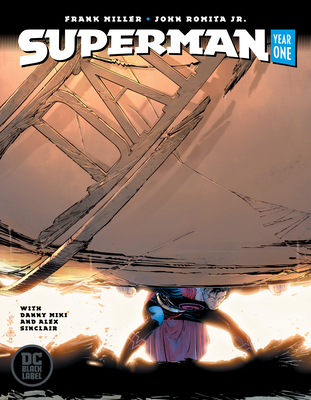 Superman
Year One
Hardcover

* Individual store prices may vary.
Description
From legendary writer Frank Miller comes a groundbreaking, definitive treatment of Superman's classic origin story, with art by John Romita Jr.

From the collapsing spires of Krypton to the bucolic fields of Kansas, from the submerged splendors of Atlantis to the chaotic energy of the Daily Planet, the story of Clark Kent, last son of the House of El, is the stuff of legend. Now, two of comics' greatest creators join forces to bring a bold new vision of the Man of Steel's origin to life.

With Superman: Year One, writer Frank Miller (Batman: The Dark Knight Returns, Ronin, Sin City), and artist, John Romita Jr. (Iron Man, The Amazing Spider-Man, Kick-Ass) bring their renowned storytelling talents to bear as they reimagine the formative trials that young Clark must undergo to claim his place I our world.

As he learns to balance the grave responsibilities of his powers against their limitless possibilities, Clark must also build his humanity just like everybody else-one relationship at a time. Greater than a super-powered adventure, more powerful than a coming-of-age tale, Superman: Year One is a visceral exploration of the fundamental importance of choice in this American icon's journey into heroism.

NOTE: Enhanced cover will only be on first printing copies!
Praise For Superman: Year One…
"Superman: Year One is worth checking out…" — Paste Magazine

"Stands out from many other iterations of Superman's origin story" —Washington Post
DC Black Label, 9781401291372, 216pp.
Publication Date: November 12, 2019
About the Author
Frank Miller began his career in comics in the late 1970s and rose to fame while first drawing, and then writing, Daredevil for Marvel Comics. He was also the creative force behind Batman: The Dark Knight Returns, Batman: Year One and Batman: The Dark Knight Strikes Again. His many works have not only redefined classic characters, but also, on a few occasions, revitalized the comics industry. His multi-award-winning graphic novel 300 was brought to full-blooded life in the 2007 motion picture of the same name, and in 2008 he directed the feature film Will Eisner's The Spirit. His creator-owned crime saga Sin City first hit the page in 1991, and then the silver screen in 2005, with Miller on board as co-director with Robert Rodriguez. The two returned to direct the sequel Sin City: A Dame to Kill For, released in 2014 and featuring two new stories by Miller. In 2015, Miller returned to his best-selling series with the highly anticipated Batman: The Dark Knight: Master Race.