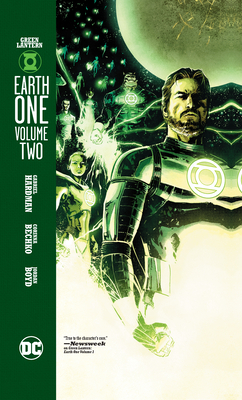 Green Lantern
Earth One Vol. 2
Hardcover

* Individual store prices may vary.
Other Editions of This Title:
Hardcover (3/20/2018)
Description
Hal Jordan and John Stewart must team up to save the last Green Lantern Guardian from an evil force!

Manhunters, alien races, rings of power--it's a lot for the people of Earth to absorb. Especially when an interplanetary incident forces their protector, Hal Jordan, to leave on a rescue mission that results in the discovery that there's a new player in the galaxy: Yellow Lanterns!

While they seem a benign force for peace, Jordan can't get comfortable with how much power they wield, or their bizarre, lockstep behavior. When fellow Earthling John Stewart ends up with a yellow ring, he and Hal must work together to confront the being who destroyed the original Green Lantern Corps--the last surviving Guardian.

Corinna Bechko and Gabriel Hardman feature two of the most famous DC characters, Hal Jordan and John Stewart, like you've never seen them before!
DC Comics, 9781401293031, 144pp.
Publication Date: August 11, 2020
About the Author
Corinna Bechko is a New York Times bestselling author who has been writing both comics and prose since her horror graphic novel Heathentown was published by Image/Shadowline in 2009. She has worked for numerous publishers including Marvel, DC, Dynamite, Dark Horse, and Sideshow on titles such as Star Wars: Legacy, Savage Hulk, Angel, Once Upon a Time, Court of the Dead: The Chronicle of the Underworld and the Hugo-nominated series Invisible Republic, which she co-writes with Gabriel Hardman. Her background is in zoology, and it usually shows. She lives in Los Angeles with her husband, Gabriel Hardman, and a small menagerie. She prepares fossils in her spare time.

Gabriel Hardman is the co-writer and artist of the Hugo-nominated sci-fi series Invisible Republic as well as writer/artist of Kinski and The Belfry, published by Image Comics. He also co-wrote Star Wars: Legacy, Planet of the Apes, Savage Hulk, and Sensation Comics Featuring Wonder Woman with Corinna Bechko. He has drawn Hulk, Secret Avengers and Agents of Atlas as well as the OGN Heathentown. Hardman is an accomplished storyboard artist, having worked on movies such as Logan, Interstallar, Inception and Tropic Thunder. He lives with his wife, writer Corinna Bechko, in Los Angeles.